I sent an internal memo this morning at 10:35 after I witnessed the swiftest move in and out of the red for the NASDAQ in a long time. In these head-fake markets, we'll need several signs of confirmation, but it felt like this was the move that aggressive money managers have been waiting for. With tons of economic data still ahead, however, there is a ton of pent-up buying that will not completely commit, even after the jobs report. On that note, the tech selloff is very much overdone, especially in social media names.
Of course, if they give back today's gains, any modicum of hope would be completely snuffed out of the individual investor.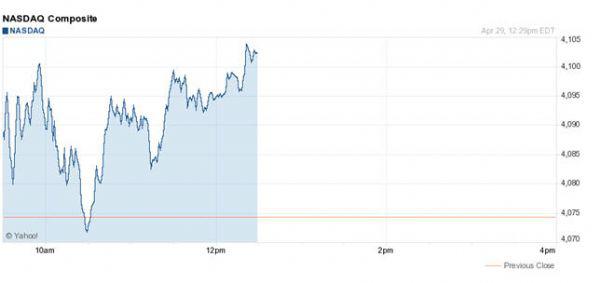 I'm itching to make a move here, but I would rather chase gains than force the issue. Please make sure you have cash on hand as I'm hoping for the next big move to be a breakout on the Dow Jones Industrial Average, accompanied with a strong reversal in NASDAQ.
In other economic news today, the Conference Board's Consumer Confidence Index fell to 82.3 in April from an upwardly revised 83.9 in March, and below consensus' estimate of 83.5. The Present Situation Index fell to 78.3 in April from 82.5 in March and the Expectations Index increased slightly, from 84.8 in March to 84.9 in April. The drop in sentiment is not likely to impact overall consumption trends since these are a product of income changes: jobs continue to be the weakest link in consumer confidence and we shall find out what the situation is with that on Friday.
After some pretty wild differences over the past year, it is worth noting that the Conference Board and University of Michigan consumer confidence numbers have been moving in some kind of unison since the start of 2014 (see chart). To us, the spells that consumer confidence is becoming slightly more predictable, and should allow economists to better forecast consumption and demand accordingly.