The market is grappling with so much information after a very mixed read on jobs. Yes, that spike was amazing, but the exodus from the jobs market was even more jaw-dropping. Gold has been edging higher and this underscores the notion that maybe this news will influence a change in plans at the Fed; however, the bond-price action says the exact opposite.
Earnings season is winding down and I think it was better than last year, with top-line growth at most companies edging a little higher and there were very few misses. That being said, the reaction to earnings has been harsh; which is both good and bad. It's good in the sense that I want sellers out of the market now rather than later, but it's really not great for the notion of investing in general.
(I've never been a fan of quarterly reporting, and the myopic focus on a penny missed here or there. More people get shaken out of great companies during this period than any other time...even from outright fundamental scares.)
I would rather everyone keep their powder dry going into the close/weekend.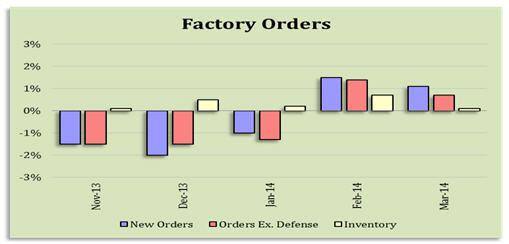 Also released this afternoon were US factory orders, which increased by 1.1% in March after increasing from a downwardly revised 1.5% in February, but fell short of consensus expectations of a 1.6% increase. This is the second consecutive month where factory orders have increased, which is encouraging considering the level of worry that the winter weather would have on these figures. Inventories are slightly down from last month, meaning they will need to be replenished at some point in the next month or so. All in all, increased levels of backlogs should keep the manufacturing production levels strong, even though demand remains uncertain.