I'm not sure what changed overnight, except that maybe the puppet masters managed to turn enough of yesterday's sells into buys today, because clearly the investing public did not change its mind overnight. On the contrary, the investing public is bunched up on the sidelines, still licking their wounds and nursing their pride, while making excuses as they try to soften the blows of missed opportunity.
I get it! I understand 100%. I saw the press conference about the VA scandal and the bogus $35.0 million fine GM paid for a debacle that appears to have been swept under the rug as the company was bailed out with taxpayer money. People died and the maximum fine was $35.0 million - it's a joke, and of course knocks the stuffing out of public sentiment for the whole damn system. But discarding the idea of owning great businesses comes at the greater peril of a real raggedy retirement.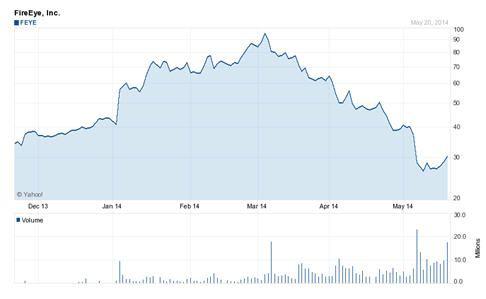 The system can and should be tweaked from time to time, but doesn't become victimized by the shenanigans.
The stock of the day is Fire Eye (NASDAQ:FEYE) whose massive stock lock-up expires today, and the shares have been higher all morning.
A week ago, the stock would have been smacked, and a month ago, crushed. A lot of that is already built into the current share price since the stock is significantly oversold, but the fact that it's holding on is impressive and tells quite a story.
The Fed releases its meeting minutes at 2:00, and that could be a market catalyst. Which direction you ask? I wouldn't be surprised to see equities move higher into the close.
MBA Mortgage Index
The Mortgage Bankers Association (MBA) released the MBA Weekly Mortgage Applications Survey results, today. We saw the amount of applications decrease to 0.9% from 3.6% a week prior. However, over the past year, there has been a steady increase in the amount of new mortgage applications. The MBA Mortgage index can be used to indicate how confident consumers are, as purchasing new properties is a big financial commitment. An increase in the MBA Mortgage Index may also indicate more action in the consumer industry to follow suit, as homeowners move to furnish and renovate their new homes with major appliances and trendy furniture.