Question of the Day
Are you ready for the trust economy where you pay strangers to sleep in their bed and eat their food then drive their cars? Are you ready to allow strangers to walk your dog, rent your car and borrow you clothes for a fee? Welcome to the Trust Economy also known as the sharing economy. Could this change the face of capitalism as we know it?
· Yes- I think it's a great idea and will generate amazing economic opportunities
· Yes- I like the idea, but it will be a fad and have no lingering impact on the economy
· No- It's not worth the risk to use strangers and will not move the economic needle
In this month's newsletter, we look into the Trust Economy and how it is changing capitalism, but maybe the hype is ahead of reality. We know all the sexy names like Uber and Airbnb and others:
But, reports this week state that Uber X will lower prices and the company will take losses to gain market share and fend off competition. The news gave a lot of people pause. Maybe this isn't an economic cure-all that the hype and multi-billion dollar values suggest. I for one prefer stocks of companies that have pricing power and take market share through sheer demand, not discounting. I do see the trust economy changing the world, but what is the ultimate economic cure-all? I'm not sure.
Heck, it's not even a sure thing that people trust each other enough for the kind of penetration needed for a new paradigm in business.
| | | | | |
| --- | --- | --- | --- | --- |
| Trust People that... | Great Deal | Somewhat | Not Too Much | No Answer |
| Access medical records | 50 | 29 | 17 | 4 |
| Prepare food | 47 | 36 | 14 | 3 |
| Work in your home | 41 | 37 | 18 | 4 |
| Share photos, videos and social network | 38 | 30 | 29 | 3 |
| Swipe your credit or debit card | 30 | 43 | 24 | 3 |
| Drive while you're driving, walking or biking | 21 | 36 | 39 | 4 |
| Meet while travelling away from home | 19 | 49 | 29 | 3 |
Flying Cars to the Rescue?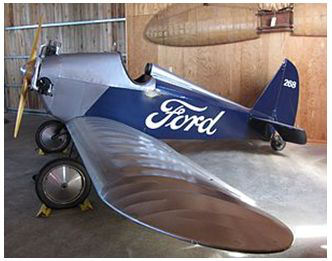 Maybe the Trust economy won't come to the rescue, after all. The hype may just be overblown.
If so, it wouldn't be the first time. An article in the Atlantic reprints a NY Times editorial from May 2, 1938 titled "Prosperity out of Fantasy" which suggested that where new industries and products like televisions, air-conditioners and flivvers airplanes ("Model T of the Air") failed to produce good wages or heavy sales, maybe "Industrial Fantasy" would do the trick.
(Wow, who knew we almost had personal airplanes almost 100 years ago.)
The Disney Magic Touch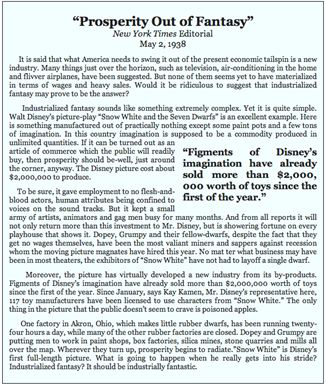 Walt Disney's early success had many thinking Industrialize Fantasy would be the answer, after all, Snow White and the Seven Dwarfs needed an army of artist, animators, gag men and then showered fortune on playhouses.
Moreover, the byproduct of toys was remarkable with Snow White alone garnering 117 licensing deals alone. (And you thought that was a recent phenomenon, too.)
Well, Disney was on to something big, but it wasn't big enough to end the recession which took the Great War that brought women into the work place and forever shifted the paradigm of capitalism in America.
So, is the trust/sharing economy Mickey Mouse in the wrong sense of the phrase? It remains to be seen, but it's really amazing that the more things change, the more they stay the same. The bottom line is that America is built to rebound and will this time as well.
Today's Session
Yesterday was a typical session-after-earnings report, but still a little unnerving. The market is grappling with the next would-be catalyst. In the meantime, heavy selling in momentum stocks points to continued anxiety with holding profitable positions and an eagerness among the fast money crowd to stay nimble. The big pullback probably begins with a whimper, not a big news announcement, so we will be vigilant about a proverbial snowball to boulder situation.
That said, I continue to think stocks are not at levels associated with crashes and the gradually improving economy is the right backdrop for higher share prices.