Today, the Fed will release the minutes from its last gathering, and this report should move the market. The big question of the day is: what is the level of internal dissent from official policy and Chairman Yellen? Some market observers think that the Fed is ready to hike interest rates based on the last four times they reversed course. I actually see the exact opposite, as "real" unemployment (U6) is higher than those other times and inflation is officially at its second lowest point.
| | | | |
| --- | --- | --- | --- |
| Rate Hike Triggers | U6 | PCE | Fed Funds |
| Feb 4, 1994 | 11.4 | 3.19 | 2.4 |
| March 25, 1997 | 9.1 | 5.57 | 2.3 |
| June 30, 1999 | 7.5 | 5.12 | 1.7 |
| June 30, 2004 | 9.5 | 1.38 | 2.4 |
| Now | 12.2 | 1.6 | 0.0 |
Not only is the real unemployment rate too high for the Fed to change course, the composition of jobs is lousy with net part-time jobs gained in 2014 at the expense of full time jobs. In 1968, part-time jobs were only 13.5% of total employment; the number peaked at 20.1% in 2010, but is heading back up and is currently at 19.2%.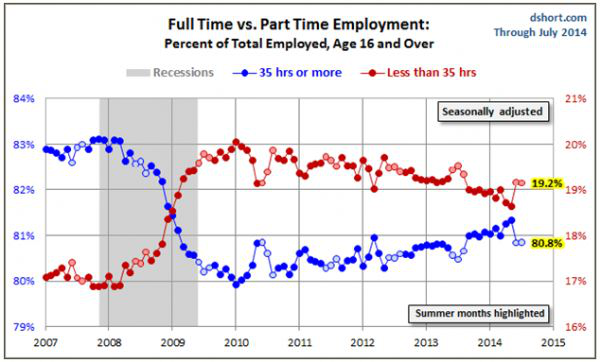 We all know the Fed playbook is to print money, make people feel richer, and get people to spend more. Fed policy is simply designed to deter savings and get people to buy stocks and houses. However, individuals are not buying stocks nor houses. Instead since Quantitative-Easing 2 (QE2) began, people have plowed $1.2 trillion into bank accounts, bringing the grand total to $10.8 trillion or 84.5% of annual disposable income. This is the highest ratio in 23 years.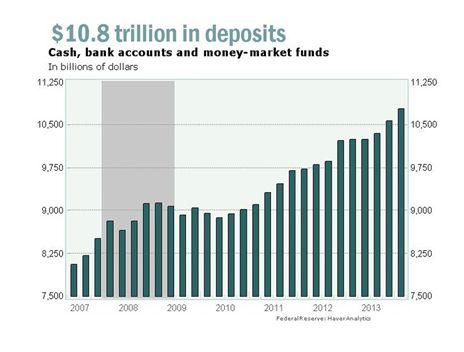 Unless wages begin to soar, I'm stating right here and now that the Fed will not hike rates for at least one year, and that means the Dow Jones has a great chance to rally north of 19,000 (maybe even to 20,000). Of course, there are always other threats including a fresh recession, which would be a bigger indictment of Fed policy than an eventual inflation crisis.
Today's Session
The markets fell last night on both economic news and geopolitical fears. On the economic side, investors worry that the Bank of England (BoE) may be increasing interest rates sooner than later, and in Japan, a weaker than expected trade deficit was reported. The geopolitical tensions glooming the market continue to be increased conflict between Israel and Hamas, and negative actions by ISIS in Iraq. With Israel and Hamas, the ceasefire has once again ended, although it is uncertain who fired the first shot. Last night, a video was released showing the beheading of an American journalist, Jim Foley, by ISIS as the group is retaliating against the US airstrikes. The US government is working to authenticate the video and determine the next course of action. The market is continuing to edge lower, and it appears that the major indices will remain in the red through the morning.
A lot of major retailers reported earnings yesterday evening and this morning. However, with companies reporting mixed outcomes, the results may not have a strong impact on the market. Under better circumstances, the housing sector would continue to rise today as Lowe's (NYSE:LOW) was able to beat on earnings, similar to Home Depot (NYSE:HD) yesterday. The retail space may be set back by some major names, particularly Target (NYSE:TGT) and La-Z-Boy (NYSE:LZB), releasing disappointing earnings reports.
| | | | | | | | |
| --- | --- | --- | --- | --- | --- | --- | --- |
| Company | Ticker | EPS(Actual) | EPS (Est) | EPS 1-Year Ago | Rev (Actual M) | Rev (Est $M) | Rev Y/Y % |
| La-Z-Boy | LZB | 0.20 | 0.21 | 0.18 | $ 327.00 | $ 322.15 | 7.0% |
| PetSmart | PETM | 0.98 | 0.93 | 0.89 | $ 1,729.94 | $ 173.40 | 1.4% |
| *Youku Tudou | YOKU | -0.07 | -0.01 | -0.10 | $ 154.54 | $ 158.67 | 27.0% |
| American Eagle | AEO | 0.03 | 0.00 | 0.09 | $ 711.00 | $ 688.93 | -2.2% |
| *E-House China | EJ | 0.14 | 0.12 | 0.11 | $ 210.10 | $ 200.41 | 28.6% |
| J.M. Smucker | SJM | 1.34 | 1.37 | 1.24 | $ 1,324.00 | $ 1,369.35 | -2.0% |
| *JA Solar | JASO | 0.14 | 0.20 | -0.58 | $ 390.50 | $ 393.98 | 52.9% |
| Lowe's | LOW | 1.04 | 1.03 | 0.88 | $ 16,599.00 | $ 16,570.41 | 5.7% |
| Staples | SPLS | 0.12 | 0.12 | 0.16 | $ 5,220.00 | $ 5,165.95 | -1.8% |
| Target | TGT | 0.78 | 0.78 | 0.95 | $ 17,406.00 | $ 17,380.96 | 1.7% |
*Firm Owned