Maybe in this reality television era this will be part of the new rite of spring-the build up to the start of the NFL season and shenanigans from current and former players. Because of his own reality television show, coupled with his on the field antics, Chad Johnson probably has more non-football fans than those that watch the game regularly. Johnson was arrested for allegedly head butting his wife, herself a reality television show star, and subsequently released by the Miami Dolphins, whose coach was already iffy on the fowl-mouth swagger of the fading wide receiver.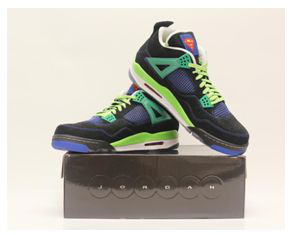 Despite his fame and long career, there is a feeling one day soon Mr. Johnson could wind up broke.
If that happens, it wouldn't be unique. In fact, the amount of professional athletes that run out of money just a few years after leaving sports is around 70% for football and basketball. It really is remarkable considering how much they make these days. Gone are the days when the "pros" had to sell cars in the off season to make ends meet. I think this is an interesting phenomenon and a cautionary tale for those that think America is too rich to ever go broke. Sure, America has a ton of resources including the ability to print a lot of money, which seemed like a good idea once in Germany and other places like Zimbabwe, but famous athletes seem to have enormous opportunities and life lines, too.
Because of this unlimited cash flow, these athletes who are rarely trained in money management and egged on by armies of "advisers" like their publicists and homeboys (you should see the entourages of C-level celebrities and has-beens...I marvel how most of these people have any money, no wonder it costs so much to go to the movies or a game), leave trails of receipts in their daily wake.
Working Like a Jamaican
Three years ago, I interviewed Warren Sapp who was working on Showtime, the NFL Network and had a slew of endorsements. I commented on his hustle and he told me he likes to stay busy by "working like a Jamaican." We both got a great laugh out of that line, thinking of a popular skit on "In Living Color." Sapp is a happy-go-lucky kind of guy, and that's why he's had chances to earn money off the field. Yet, therein lies the rub. With luck and hard work, you can earn all the money in the world, but hard work can be squandered if you spend more than you make. I don't know what Sapp spent his money on, but it wasn't child support. In fact, he recently filed for bankruptcy to avoid going to jail for failure to pay said support. The filing means the public gets to glimpse what's left of a career where millions were made on and off the field (endorsements included Nike, National Car Rental and Swanson).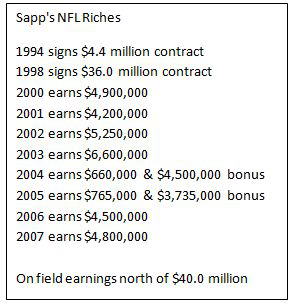 Sapp listed assets of $6.5 million, including a lion skin rug ($1,200) a watch ($2,250), and 240 pairs of Air Jordan sneakers. Those sneakers are now going to be auctioned off. (I'm glad my son doesn't wear a size 15 because all of a sudden he's an Air Jordan aficionado, which is good and bad. It's good because he can work toward something, but bad because these are expensive sneakers, and I have to make sure he understands how much work it takes on both parts, his grades have to come up and I have to work 90 hour weeks). Mr. Sapp continues to earn $115,000 a month but his hole is too deep. This year Americans are going to have a chance to do smart things that will save entitlement programs even though the process will make some people uneasy.
Unfortunately, even in bad times, it's good times in America when checks still come in the mail from the government. There are a lot of "advisers" saying don't worry let's party, let's spend and worry about tomorrow, tomorrow. In addition to the new rite of NFL players going off the tracks in plain sight, another rite has begun as well-the summer of bankrupt western nations. Last year it was Greece, this year it's Spain and looming large for next year is Italy. Sadly, those nations gave up being like Jamaicans a long time ago as the welfare state replaced hard work and pride. Those countries are giant warning signs for America. Warren Sapp is a giant warning sign for America.
The pocket is collapsing and it's time to huddle up and regroup or we're all going to get sacked, and I don't have 240 pair of Air Jordan sneakers to auction off.
Today's Session
The market is edging higher, due in part to a big rebound in retail sales after three consecutive negative months including -0.7% in June. The 0.8% jump in July was the largest monthly increase since February and saw all components of the report edge higher.
Looks like we want to go outside and have fun in July. But those that didn't frolic in the sun headed to the malls.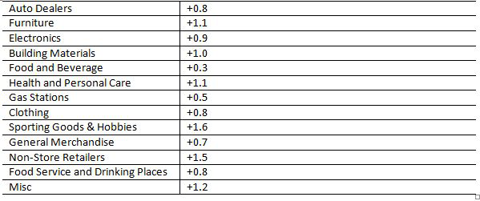 Home Depot (NYSE:HD) is the biggest name higher in retail today. I was there three times this week and used the self-checkout system, it worked well and the service is still significantly better than Lowes.
Michael Kors (NYSE:KORS) is rocking but just look at the watches women in the office are wearing today - it's no mystery. On the other hand, Groupon (NASDAQ:GRPN) tried to rewrite accounting rules with mysterious income statements that were shot down before the IPO, and now the stock is being shot down as well.