Inflation protected securities like TIPS (treasury inflation protected securities) have been rising along with the stock market for the past few years, but what we saw over the last week was a little shocker for many investors as TIPS (see chart below) started to fall relative to normal treasury bonds while the stock market saw a big booster. Similarly precious metals recently showed some weakness, which was also uncharacteristic in recent years when stock markets rose.
(click to enlarge)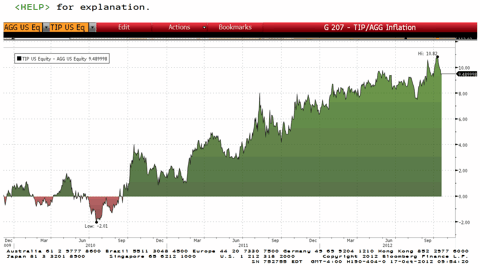 Click to enlarge
The market finally seems to recognize the fact that the FED is successful in keeping inflation very moderate (somewhere between 1.5 and 3%) which is a best case scenario for stock markets and increasingly bad news for commodities and inflation driven assets.
We are actually already seeing a decoupling of commodities from stock markets and bond markets since 2011. My long-term proprietary cycle model (go to pfiii.com for details) shows that effect very nicely (see next chart). Commodities in green already started to show negative growth in 2011 and since then they have not been able to get out of the slump which is mainly tied to three factors: 1) Inflation is not very high, sometimes even too low 2) China and India are in a slump 3) On a historic basis commodity prices are already high
(click to enlarge)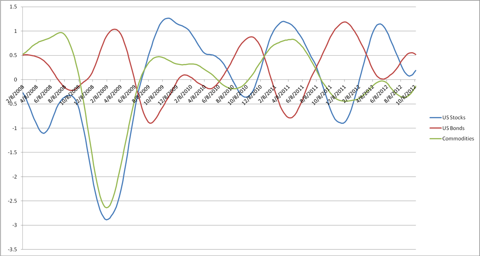 Click to enlarge
In a moderate inflation and low interest rate environment long-term investors will look for investments in equity markets and the recent rise of the IPO pipeline is a first sign that the confidence in stock markets is slowly coming back.
Disclosure: I have no positions in any stocks mentioned, and no plans to initiate any positions within the next 72 hours.