INOC, Innotrac Corp.
** For the third quarter 2012, INOC posted total revenues of $25.7 million, a 31.6% increase year over year, and net income of $1.1million, or $0.08 per share, fully diluted, versus a net loss of $490,000, or ($0.04) per share, in the same period the prior year.
INOC ended the quarter with a $1.7 million cash balance and no advance on its line of credit as INOC approachs the higher seasonal volumes expected at the end of the year.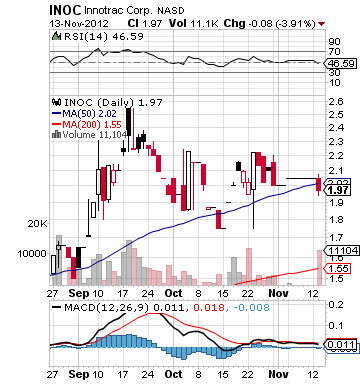 INOC is a best-of-breed commerce provider integrating digital technology, fulfillment and contact center solutions to support global brands.
More about INOC at www.innotrac.com
******************
Read Full Disclaimer at http://CRWENews.com/disclaimer
www.crwenews.com/3371/stock-alerts/innot.../
Disclosure: I have no positions in any stocks mentioned, and no plans to initiate any positions within the next 72 hours.