PWER, Power-One, Inc.
** PWER and Phono Solar, a division of the SUMEC Group and a leading solar panel manufacturer and system developer, reported that they have entered into a strategic alliance to market and sell photovoltaic systems worldwide using PWER inverters and monitoring systems.
As part of the agreement, the companies will utilize their research and development resources for joint product development targeted to specific market needs. The companies will also work together as a preferred key equipment supplier for current and future large scale projects.
Lastly, the agreement will allow the two companies, with their complementary product offerings, to strengthen key aspects of their businesses including research and development and marketing.
Phono Solar's parent company, the SUMEC Group, will provide access to large PV projects in China. In addition to China, the companies will focus on Japan, Australia and other APAC countries with strong developing PV markets.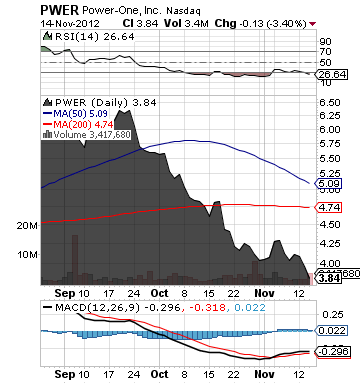 PWER is a leading provider of renewable energy and energy-efficient power conversion and power management solutions and is the world's second largest designer and manufacturer of photovoltaic inverters.
More about PWER at www.Power-One.com
******************
Read Full Disclaimer at http://CRWENews.com/disclaimer
www.crwenews.com/3372/stock-alerts/power.../
Disclosure: I have no positions in any stocks mentioned, and no plans to initiate any positions within the next 72 hours.