FIVE, Five Below, Inc.
** For the third quarter fiscal 2012, FIVE posted net sales of $86.6 million, a 39.9% increase year over year, and net income of $0.7 million, compared to $0.4 million in the same period the prior year.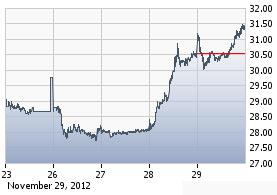 FIVE is a rapidly growing specialty value retailer offering a broad range of trend-right, high-quality merchandise targeted at the teen and pre-teen customer.
More about FIVE at www.fivebelow.com
******************
Read Full Disclaimer at http://CRWENews.com/disclaimer
www.crwenews.com/3382/stock-alerts/five-.../
Disclosure: I have no positions in any stocks mentioned, and no plans to initiate any positions within the next 72 hours.