Update at Close 4/15….. Late Day Reversal To Green
The NASDAQ Composite began a rally at 1P EDT and never stopped , moving up 62 points to close at 4034. Biotech ETFs followed step by step to end up in the green after a severe daily decline. The IBB ($217.6) ended up 1% after hitting allow near $207.68 at 1 Pm EDT.
The XBI hit a low of $115 before rallying at 1P EDT to a $122.7 close . $115 is the Aug, Oct and Nov 2013 triple bottom.
There should be a follow-up rally tomorrow in NASDAQ and large cap biotech stocks.
-----------
Biotech Selling Is Relentless- But Off Daily Bottom
NASDAQ Down 22.82 or 0.57% %, 4.25% YTD at 2:13P EDT; DOW and S&P flat but green
See chart below on major biotech ETFs. FBT flat YTD, PBE up 2% YTD, IBB down 6% YTD
and XBI down 8.17% YTD and now at October lows , a triple bottom near $115. The XBI SPDR S&P Biotech ETF has a $1.27B market cap was originally characterized as "equal weighted" and is small cap growth. There is frequent rebalancing of holdings for example with GERN, KERX, EXAS,ITMN and ACOR now among the top ten. At one time the XBI held many of the highly speculative and MOMO stocks like ARIA, GEVA, ICPT, INCY, NVAX, ONVO, SGMO, SRPTetc. We suspect that the model of XBI ($119) is MACD or MO based and whatever the case should be an indicator of small cap biotech bottom.The chart is currently in bear territory below the 200 day moving average. The 2014 high was 170 in late February.
We recommendedXBI as a short to hedge a life science portfolio in February but it is too late to short now. We recommended a cash position in a life science portfolio at 30%.
Other ETFs like FBT and IBB are more weighted to large caps.
(click to enlarge)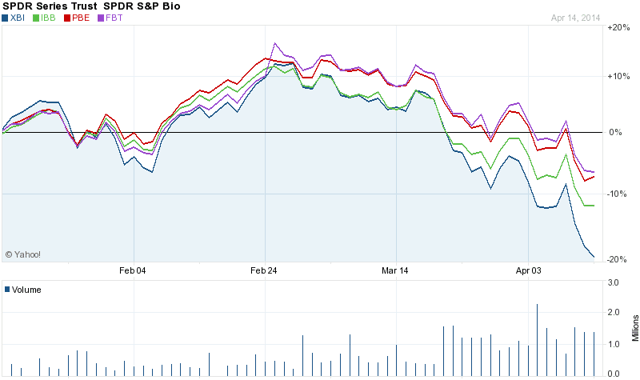 Click to enlarge
Disclosure: I am long GILD.
Additional disclosure: I am long FBIOX Fidelity Select Biotech and short mid and small caps on a daily basis.