Biotech ETFs or Large Caps Are Best Plays
In March 2014 we recommended an overweight in large cap biotech stocks due to volatility and higher risk of smaller cap stocks lacking revenue visibility. As we move into the fourth quarter we will reassess upside in the usually bullish end of year time frame. However many of our mid and small cap picks remain outstanding performers YTD:
Achillion (NASDAQ:ACHN) up 115%
Pharmacyclics (NASDAQ:PCYC) up 13.3%
Vertex (NASDAQ:VRTX) 17%
You can review our six large cap biotech portfolio picks YTD and the market weighted portfolio is up 17.5% YTD. Our top pick among the ETFs is First Trust NYSE Arca (NYSEARCA:FBT) which is up 18.76% YTD.
The YTD performance among the large caps is as follows:
Aug 5 YTD: ALXN 17.7%, AMGN 12.1%, BIIB 16.3%, FBT 17.6%, GILD 22.9%, REGN 21%, RHHBY 2.56%.
Abbvie (ABBV was dropped from the portfolio due to the potential merger with Shire plc (NASDAQ:SHPG) which would reduce the biotech product mix.
(click to enlarge)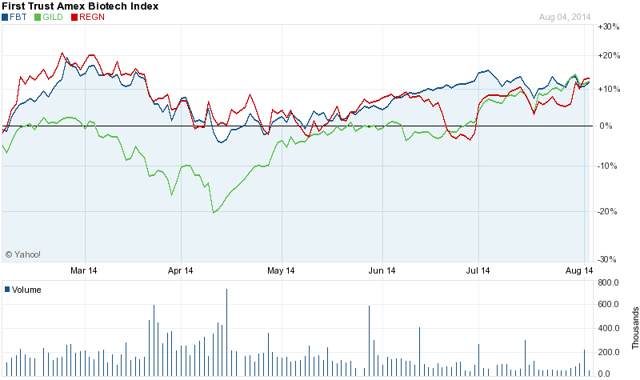 Click to enlarge
Disclosure: The author is long ACHN, GILD, RHHBY.
Additional disclosure: Long FBIOX Fidelity Select Biotech