Post Holdings (NYSE: POST)
POST ("Post Holdings") previously reported results for the quarter and full fiscal year ended September 30, 2012. fourth quarter and fiscal year highlights included that U.S. dollar market share for expanded all outlets combined (xAOC) of 10.2% and 10.4% for the thirteen weeks and fifty-two weeks ended September 29, 2012, respectively; Net sales of $247.2 million and $958.9 million for the 2012 fourth quarter and fiscal year, an increase of 4% and a decrease of 1%, respectively, versus the same time periods a year ago; Adjusted EBITDA of $53.5 million for the quarter, and $214.6 million for the fiscal year ended September 30, 2012.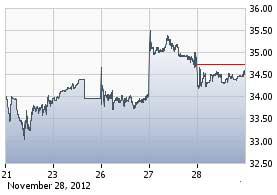 POST ("Post Holdings") net sales increased 4.0% for the quarter ended September 30, 2012 as compared to the prior year, primarily driven by 4.9% higher volumes, led by Honey Bunches of Oats, Great Grains and Pebbles, partially offset by lower overall net pricing from greater consumer promotion and increased value distribution. For the fourth quarter versus the comparable prior year quarter, Honey Bunches of Oats and Pebbles volumes increased 9.9% and 9.5%, respectively, while Great Grains and Grape Nuts volumes grew 13.5% and 2.8%, respectively.
Post management estimates that fiscal 2013 Adjusted EBITDA will be between $210 and $225 million, after considering the estimated year-over-year unfavorable commodity cost effect of between $10 and $15 million. Post management further expects that capital expenditures will be in the range of $30 to $35 million, inclusive of between $11 and $13 million of capital costs associated with establishing stand-alone information systems separate from Ralcorp. Finally, management expects net interest expense to be between $80 and $83 million in fiscal 2013.
Post Holdings (NYSE: POST) is the parent company of Post Foods, LLC. Post has enriched the lives of consumers, bringing quality foods to the breakfast table since the company's founding in 1895. Post's products are generally sold to supermarket chains, wholesalers, supercenters, club stores, mass merchandisers, distributors, convenience stores and the foodservice channel in North America. Those products are manufactured at four facilities located in Battle Creek, Michigan; Jonesboro, Arkansas; Modesto, California; and Niagara Falls, Ontario. Post's portfolio of brands includes diverse offerings to meet the taste and nutritional needs of all families, including such favorites as Honey Bunches of Oats®, Pebbles™, Great Grains®, Post Shredded Wheat®, Post® Raisin Bran, Grape-Nuts®, and Honeycomb®. Post is dedicated to health and wellness, offering consumers a variety of cereal choices to meet their nutritional needs from whole grain and fiber to lower sugar offerings. For more information, visit www.postfoods.com.
In my opinion this is a stock to watch!
(Read Full Disclaimer at http://crweresearch.com/disclaimer) crweresearch.com/233/stock-alerts/post-h.../
Disclosure: I have no positions in any stocks mentioned, and no plans to initiate any positions within the next 72 hours.