Over the past four months the important Market Vectors Retail ETF (NYSEARCA:RTH) has been in sideways trading range. The high end of the range is around the $46.00 level, meanwhile the low end of the range remains at around the $43.00 area. Currently, the pattern on the daily chart of the RTH is still forming bullish consolidation, so a move into the high end of the range soon cannot be ruled out.
Today, the RTH is trading higher by 0.01 cent to $44.29 a share. Short term traders should watch for intra-day resistance around $44.50, and $44.80 levels. Should the RTH decline intra-day there should be support around the $44.15, and $44.87 levels.
Some leading retail stocks that are coming under selling pressure today include Lululemon Athletica Inc (NASDAQ:LULU), The Gap Inc (NYSE:GPS), Costco Wholesale Corporation (NASDAQ:COST), and Bed Bath & Beyond Inc (NASDAQ:BBBY). Each individual retail stock should be viewed on an individual basis as they will not always follow the RTH.
(click to enlarge)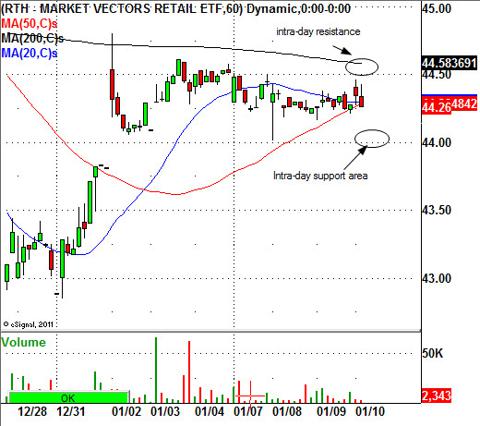 Click to enlarge