The markets are reversing more than 100% of the bounce up yesterday. Yesterday was a bounce day following the biggest drop in the markets in five months. Technically speaking, this market is in trouble. Anytime the up day, sandwiched between two down days is just a retrace bounce, it is not good. In addition, the bounce yesterday had very light volume while both the fall on Monday and today has had heavy volume. This means institutions are dumping. The SPDR S&P 500 ETF Trust (NYSEARCA:SPY) is trading at $154.91, -2.51 (-1.59%).
The big break down in the technology sector came on the back of Apple Inc. (NASDAQ:AAPL) which is trading at $402.32, -23.92 (-5.61%). The stock has just taken out the $419.00 level. This will send it to $395.00 and then eventually to $355.00. The $355.00 level will be a mega low support level and can be played as a mid term swing long.
Gold and silver miners continue to drop even though gold is bouncing slightly today. The sell pressure in this market is just too strong for the miners. The SPDR Gold Trust (ETF) (NYSEARCA:GLD) is trading at $134.08, +1.28 (0.96%) while stocks like Newmont Mining Corp (NYSE:NEM) are trading at $33.29, -0.49 (-1.45%). While extremely oversold, the miners will need a flat to positive gold price and stock market to get a technical bounce.
Stocks across the board are taking a beating today. Proprietary signals of confirmation classify the April 11th, 2013 high as a significant near term top in the market.
Gareth Soloway
InTheMoneyStocks.com
(click to enlarge)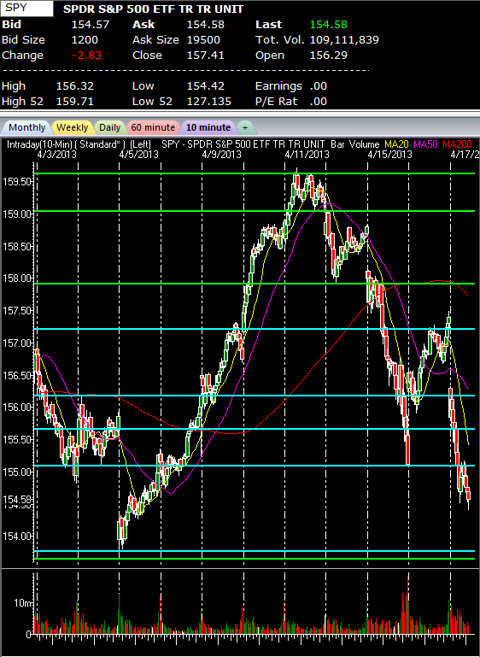 Click to enlarge