In honor of the market showing some signs of weakness we are going to begin with a few shorts.
About three weeks ago BKE gapped lower on huge volume…and since then has done little more than churn in a sideways pattern. BKE has massive support at 25 and the current breakdown level is at 25.50. I would consider keeping this stock in a ticker and watching it closely as it breaks 25.50 and approaches 25. If this stock is unable to hold the 25 area the selling pressure should explode.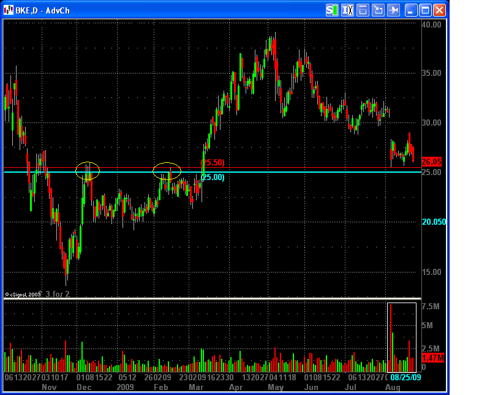 FOSL just broke down from a triangle and appears ready to continue its slide that began with a high volume gap down back on August 11th. The stock has two potential short triggers…24.50 and 24.20.  A reasonable initial stop loss level might be 24.75.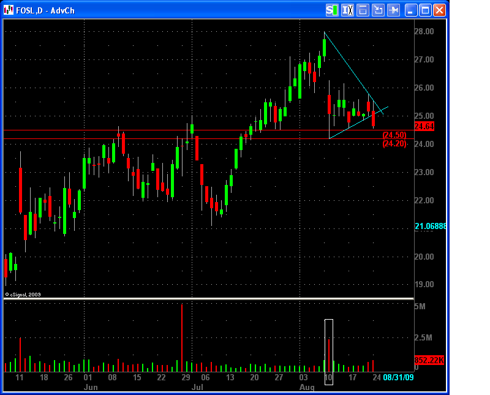 Our last short is PAG. This stock has been churning sideways and has a good shot at revisiting 15 if it can break 17.40 and 17. Using 17.40 as a short trigger I would consider using either 17.75 or 18 as an initial stop loss level.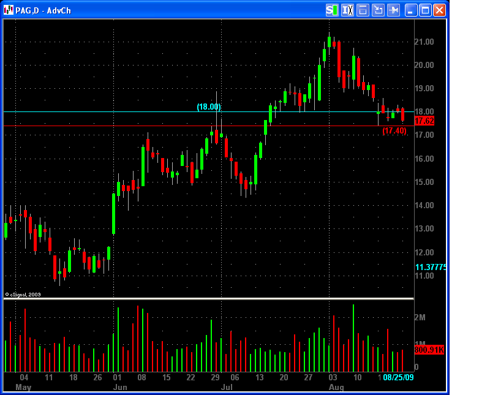 The three longs on our watch list for tomorrow are low dollar stocks, so please consider whether they are suitable for your trading style and stylistic approach.
BLC broke out to another new high for 2009, but on less than impressive volume. I will be watching the stock as it approaches the 4 dollar area and would be willing to trade it if volume and trade activity expand as it breaks out. Using 4 bucks as the breakout area I will consider using 3.8 as an initial stop.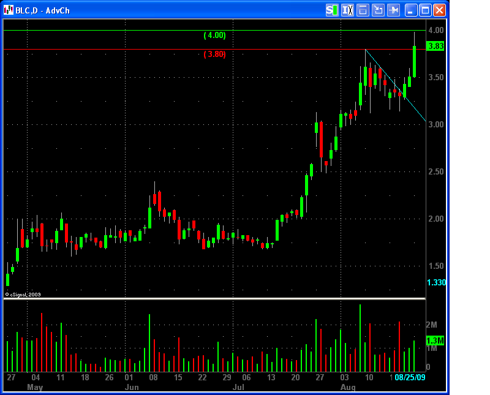 Next up is another swine flu play. SVA is not followed nearly as much as BCRX and NVAX(both of these continue to look like good longs), but could still provide us witha nice trade opportunity.  A high volume pop through 5.50 would provide a decent buy set-up with 5.20 as an initial stop loss. If you find 30 cents to be too wide a stop, identify the nearest area of intermediate support for your timeframe and work off that.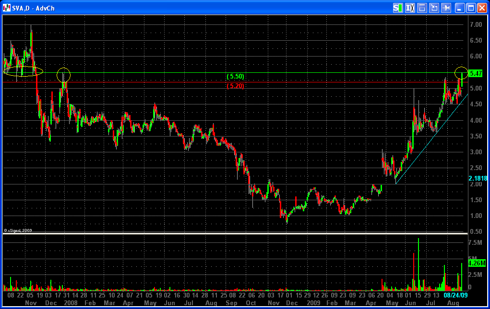 The last stock for today is ACAD. There are two potential buy triggers on this one…6.40 and 6.60. If the volume is strong, I will consider picking up some ACAD on a break of 6.40, but a break of 6.60 is the level that will generate the most momentum and get this thing moving. I would consider using an initial stop of 6.10, but I will increase the stop loss level quickly if buy pressure comes in.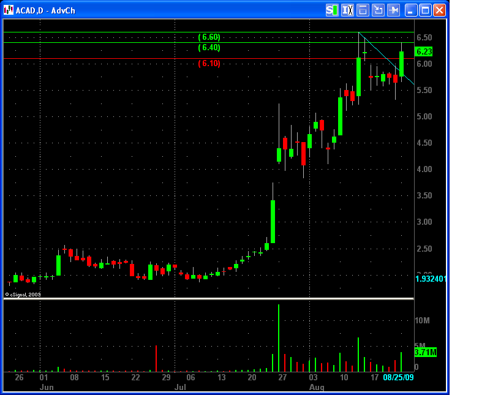 Disclosure: No positions were held at the time of publication, though that may change at any time.