The chart below was created in order to project a possible sell off price pattern of the S&P 500 assuming a peak value on the S&P as of March 15, 2013. The chart assumes a sell off that will closely approximate the sell off that occurred from September, 2012 to March, 2013 in Apple stock. The methodology for creating the forecast model is explained below.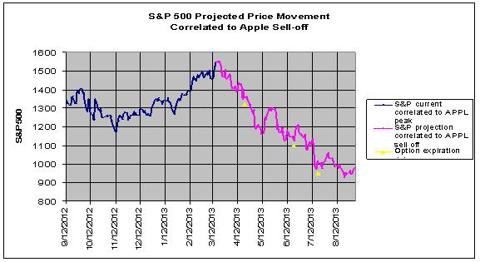 The projection was prepared as a tool to gauge the value of certain options currently held in my account at point of expiration assuming a trajectory similar to that of (NASDAQ:AAPL), hence the yellow arrows. They are of no value to readers unless you happen to own options with April, June and July expirations.
I prepared the chart for my own use but the following comment by Eric Parnell made me think it might be a useful tool for others:
A particular item is notable, however, when taking today's stock market and comparing it with a six-month lag against Apple's stock price. History has a funny way of repeating itself, and while the magnitudes of the ascents are certainly different, the pattern that is developing is strikingly similar. And just as it seemed that Apple's stock could do no wrong in September 2012, so too it seems today that stocks can go nowhere but higher having risen for 10 consecutive sessions on the Dow and counting.
The chart above was created by downloading the actual price action of Apple stock for the period from September 18, 2012 through March 15, 2013. A set of percentages were then created by using the actual peak value of Apple @ 702.10 on September 18, 2012 as a base value. All other values were then calculated as a % of the base value
Thereafter, the closing price of the S&P 500 as of March 15, 2013 was set at the 100% value (702.10 for Apple and 1550 for the S&P) and the chart was created by multiplying the applicable percentage for each day to the base value.
The blue line in the chart above is not the actual price action for the S&P. Rather it is the price action as a percentage of the base value (peak price) of Apple stock leading up to the peak on September 18 but it substitutes the current price of the S&P 500 at the peak.
Although the blue line doesn't reflect actual price action of the S&P it does bear a good resemblance to the movement of the S&P from September 1, 2012 through the March 15, 2013 date as indicated by the actual movement of the S&P (NYSEARCA:SPY) in the smaller chart just below the S&P Projected Price Movement chart. The following chart overlays the data to give a better view of the correlation of the actual data of SPY to the backward data as calculated: