CAI International, lessor of ship containers and railcars for global trade, finds itself currently in a good spot for the enterprising investor. After an earnings miss in late July the stock trades at a measly ~7.5x PE and <7x forward PE.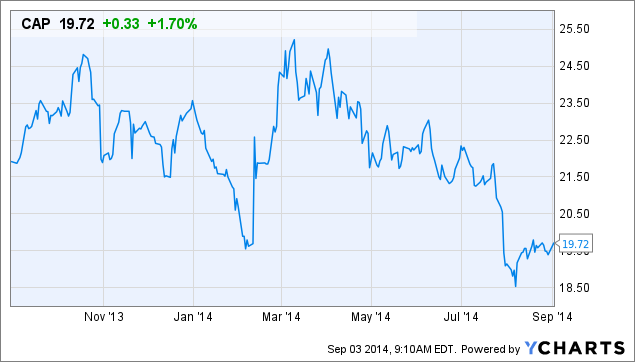 As you can see from the chart it is at quite the temporary trough for the 12 month period. Management indicates the steps they've been taking to move containers to higher lease demand areas, to the detriment of earnings lately, will begin to show a positive bent going forward. The company has retained earnings in excess of 10% of their present market capitalization each of the last 3 years, indicating the strong profitability of the company. In my experience very few companies show that degree of efficiency in this very important line of the balance sheet.
Analysts average projection for EPS next year sits at $3.03, which equates to about 64 million dollars, for a company who's market capitalization sits at ~410 million.
Market players seem to be pricing in an already tough, and seemingly tougher going forward, rate environment for container lessors. Management at CAI International acknowledges the environment, and has indicated it intends to purchase more railcar investments to achieve better returns. They also indicate the steps they've been taking should result in positive earnings momentum.
For a strongly profitable company in a non-tenuous industry, I'd attach at very least a 10x PE, indicating pretty significantly undervalued equity if they can indeed earn $3.00/share next fiscal year. Downside risk is minimal on the specific stock level, though a significant fall in the market would certainly bring it lower, which would make a great buying opportunity.
Price Target = Seeing as market participants seem to value it conservatively I will say $26 is a reasonable price that CAP should eventually hit, though my own inclination is a fair price around $30, at 10x earnings.
Disclosure: The author is long CAP.