For the second day in a row the major indexes all closed in the lower end of their ranges with volume coming in lower than the session before.  It would be unwise to try to deduce much from these kinds of days, however.  You'll only end up over-thinking the market and this will most likely cause you to make some less than brilliant moves.  The last thing we want is to anticipate or "prophesy" what is to come.  We'll leave that to others.  All we are interested in here at Monster Stock Trader are the facts.  And there is simply no disputing the fact that we are in an incredibly powerful uptrend, the likes of which we haven't seen since the 1930's.  Let's not make it any more complicated than that.
It's now more than apparent to us that the 2008 market has inflicted awful psychological and emotional damage out there.  Sad, yes, but still all too true.  We venture to guess that roughly 90% of market participants have yet to truly "get their wits about them," as they say, even those who, like us, actually made money via their short operations.  We simply believe that most have not yet come to grips with the truly horrific and historic ramifications of last year's market collapse.  This is no moot point.  If one is unwilling or psychologically unable to put the market into context, this will adversely affect his trading.  There's no getting around it.  If one hasn't a correct point of reference in the real-world battle that is the stock market, say good-night.
Where does all this leave us as of today?  Let's take a look at the Nasdaq: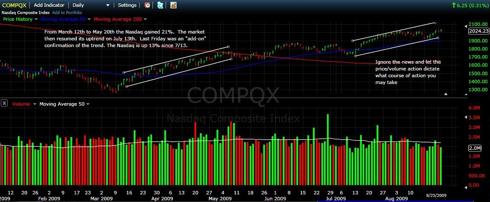 For those that like the leveraged ETFs, we've always thought one would be well served to keep a core position in TNA to catch the market's larger uptrend, while trading around it if that is what one's inclined to do.  We'd suggest scaling out of the position or hedging it with some TZA should distribution begin to creep back into the market though.  This would go a long way to protecting your profits.  Nothing fancy, just use your common sense.  No need to get too clever with these leveraged ETFs.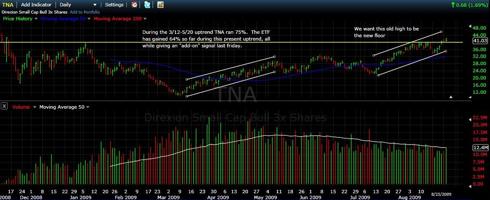 We heard much weeping and gnashing of teeth today over the session's big winner: Medassets (MDAS).  Not by those who owned it, mind you, but by those who felt they had "missed the move."  Needless to say, we humbly take a somewhat different view.  Again, a little perspective goes a long way.  A monthly chart of MDAS shows the stock may well just be getting started.  First, this company counts quality stocks like SXCI and CERN as its group mates, so there's that; second, while it's still a bit on the thin side, mutual funds are obviously in the process of discovering this stock, though, admittedly, none have made it a top 25 holding as of yet.  But management owns nearly 50% of the shares.  Think they have a vested interest in the company's success?  Again, the monthly chart clearly shows that volume is in fact picking up.  We'll want to see this continue.  Definitely file this stock under the heading: "One to Watch."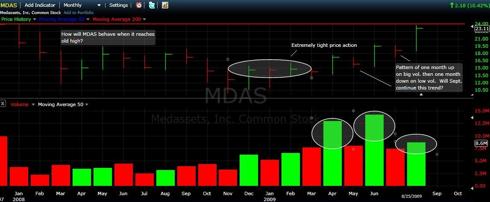 GS: Who wouldn't want to own some shares of a company that apparently controls the entire world?  If you didn't buy the stock when it bounced off its 10 week moving average, fret not, you may very well get another shot.  Goldman Sachs has been trading incredibly tight now for about a month.  Just how tight?  The last four weekly closes have all been within 1% of the previous week's close.  And this week is turning out to be not much different.  That's saying something, considering how wide and loose this stock was trading just five months ago.  It's clear to us that GS is being accumulated.  When you notice price action this tight coupled with low or mundane volume it is a dead giveaway that institutions are at work in the stock.  The way we see it, GS is buyable if and when it surges to the upside on big volume.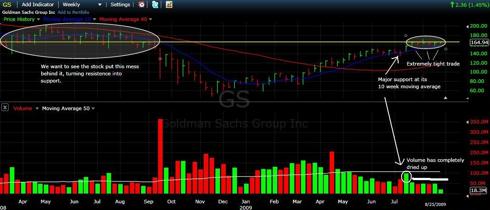 So keep things in context and, beyond all else, keep them simple.  We are fully aware of all the reasons the market shouldn't be doing what it's doing…and yet it is.  This is not the time to be an academic, it's the time to be obedient.
William J. O'Neil, the founder of Investor's Business Daily, thinks that this is a new bull market; Paul Tudor Jones believes it's merely a bear market rally.  Yet, as great as those two market operators are, they mean nothing.  The question remains: What are you going to do?  In the end, only the market is right.  So, as we will say here again and again, listen to what the market is telling you.