Issue #1
September 6th, 2009
Welcome to the first Monster Stock Report and it comes at an interesting crossroads for the stock market. We've had quite a run from both the March lows and July lows. Many pundits are screaming and begging for a pullback of some proportion. So far from the lows we've seen the beaten up groups from the 2008 bear market find support and move higher. In addition, we have seen fundamental growth stocks find little strength in this run up.
When taking a holistic point of view of the market and considering the bear market of 2008 it should come as no surprise we have seen the junk move from the bottom. In March stocks were pricing in complete and utter destruction of the United States financial system and stock prices certainly showed that. Back in in late 2008 the Federal Reserve pumped in MASSIVE liquidity into the nation's banking system in hopes it would save us from collapse. So far, it has done its job by keeping the markets from utter collapse. Equity prices are have been and continue to be in a state of chaos repricing themselves for what lies ahead and since it isn't total destruction we find these stocks moving higher.
Rolling into last week the market had been a bit topsy-turvy flashing signs of "stalling" and Tuesday the market did give way to massive selling pressure. Even leading growth stocks were largely hit and did not avoid the selling that flooded the market. However, stocks were able to regain some footing and moving back near Tuesday's level. The light volume recovery from Tuesday's fall was done on light volume suggesting big institutional money was not behind the move. This is always a troubling sign, but it does not be disaster for the market; it could be a sign we might simply trend a bit lower before we can make any big move higher.
Moving onto the charts, first lets look at the NASDAQ.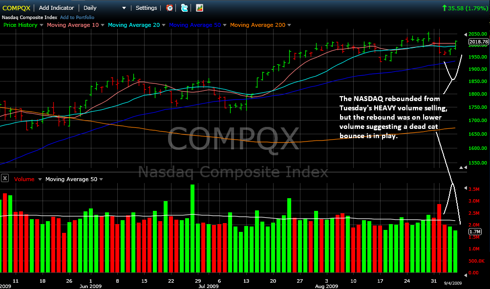 Click to enlarge
The NASDAQ daily chart does not look too pretty here, but when looking at the weekly chart (below) it appears things aren't so bad. This really begs the question: "are we beginning to see a rotation?"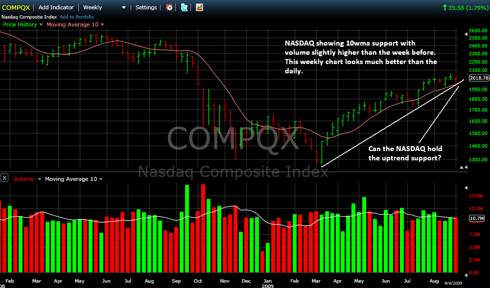 Click to enlarge
Moving over to the S&P 500 we see the same tale as we did with the NASDAQ.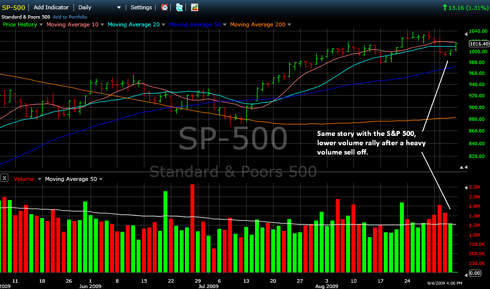 Click to enlarge
Again are we seeing rotation out of the junk-off-the-bottom stocks into quality growth names?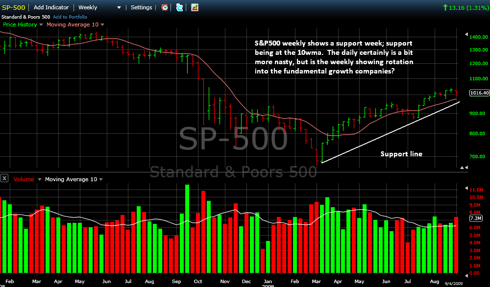 Click to enlarge
If we are going to see a rotation into quality names we must be prepared to take advantage of the situation. Remember, keeping a watch list of names even with the market is in either a correction or during "under pressure" zones it is wise to keep a watch list of quality names in case we begin to see strength in the market once again.
Onto the stocks!
PWRD – Perfect World is near tops in its class as far as Chinese Gaming stocks. The past 3 quarters for EPS growth have been nothing but stellar: 50%, 55%, and 81%. More impressive is its Return on Equity whcih stands at 50%. PWRD has been consolidating as the Chinese markets are under a sizeable correction. Questions still remain regarding growth in China, but we'll let the chart speak to us rather than opinions.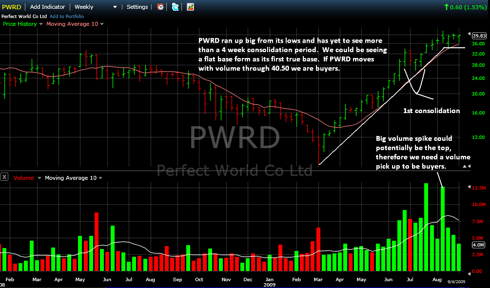 Click to enlarge
Keeping within the technology arena stats side is a company who develops wireless connectivity and management software. If you continue to use your mobile phone for mobile internet and other features SMSI will continue to push forward. SMSI – Smith Micro Software has seen its EPS accelerate for the past 5 quarters from -50%, -25%, -10%, +12%, +30%, +42%. Sales have been sluggish past two quarters, but the most recent quarter did see a pick up in sales. Return on equity isn't glamorous but respectable at 14%. However, the industry trend towards wireless technology SMSI stands to benefit from the continued growth in the industry.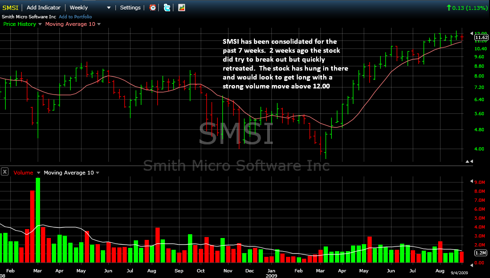 Click to enlarge
RAX – Rackspace Hosting Inc is a fundamentally strong growth story but the chart took a hit recently. The company has yet to prove consistency in putting out solid EPS growth numbers and sales have slipped for the past 5 quarters. Not all doom and gloom as the Management Team owns 44% of the stock and their cloud-computing technology is tops in its class. It still may be a bit early for RAX but an acceleration in Sales and EPS next quarter could spark a run for the stock.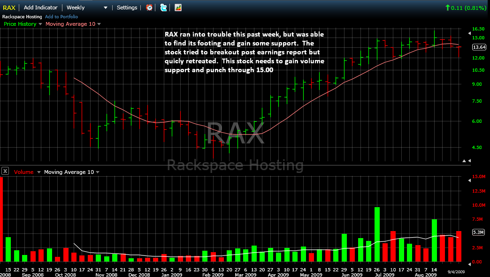 Click to enlarge
SWI – Solar Winds is another technology based company who provides software for networking management. Their niche however is not only their stellar product but how they sell it. The company allows their software to be downloaded over the internet keeping sales cost to a minimum and utilizing their support staff to help customers begin using their product. This recent IPO certainly as the makings of a monster stock as mutual funds are piling into the stock. Management owns 73% of the stock a sure sign of support for the company itself. However, I am interested in seeing the chart.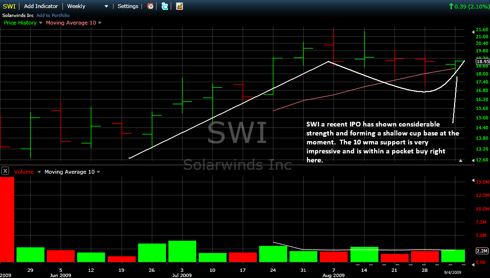 Click to enlarge
The market will need to cooperate here in order for these stocks to peform and turn into a MONSTER! Last week's low volume push into Friday's close suggests we might see selling pressure come Tuesday after labor day. It'll be important to see leadership hold in the face of the selling.
Potential Monster Stocks: PWRD, BIDU, FUQI, HMIN, CTRP, CERN, SXCI, SMSI, EQIX, RAX, EJ, SWI, HITK, CYOU, DGW
Potential ETFs: TNA TZA
No Holdings at the time of the report