Heavy volume moves higher, liquid growth stocks leading the way and support at key levels: that's the tale the tape has told for the last week and a half.  Case in point, the Russell 2000:


The Russell has closed at the high of day (HOD) exactly 5 out of the last 8 sessions, and it's come within a tick or two of a HOD close 7 out of the last 8 sessions.  Our point?  Demand has been such that investors have consistently bid the Russell into the close.  That's encouraging, to say the least.  That sort of unremitting buying, should it continue, is what can really boost one's returns.  In fact, all the indexes paint the same picture: long tails that demonstrate quite impressive intraday support.  The Russell has also risen above that 590 level that we were watching, and, more importantly, it's stayed there.  The last index to do this (climb over its August high) was the Dow and it did it today.  So onwards and upwards.
A few stocks for discussion:

Rackspace Hosting (NYSE:RAX), which we last highlighted in our Free Newsletter on August 28, put in an honest day's work on Tuesday.  If it's going to form an ascending base, however, it will have to step on it.  Time is short.  In all likelihood it's forming a cup-shaped base.  One could certainly have initiated an "anticipatory" position on Tuesday, with the idea of perhaps doubling up on a "cup" or "cup with handle" breakout.


Sourcefire (NASDAQ:FIRE), which we highlighted in The Monster Stock Report last week, had a good day as well.  Here's what we wrote last week:
"Sourcefire (FIRE), along with its group-mate Arcsight (ARST – chart not shown), has been experiencing some very tight trading lately.  We consider this all the more impressive given the market's recent weakness and the fact that FIRE is a thinner stock.  We hope that the recent breakout of ARST bodes well for FIRE as both these companies have outstanding earnings growth and are involved in a space (cyber-security) that is surely to play an important role on the world's stage in the not-too-distant future."




Salesforce.com (NYSE:CRM) is a liquid growth stock that presents an interesting situation: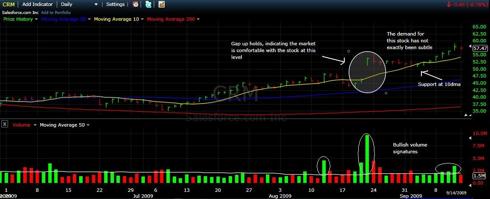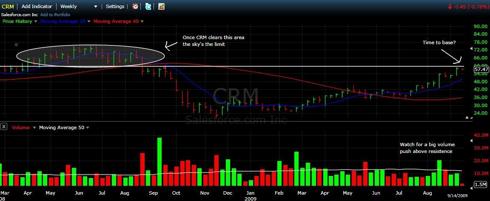 While CRM has 5 quarters of decelerating sales, look for this to change as estimates going forward call for much better results.
We saved what we consider the best for last: Baidu (NASDAQ:BIDU) is a stock that, frankly, we've been trumpeting from the rooftops for about 100 points.  This is what they call a "big stock."  And when it comes to a big stock you either go big or go home.  William O'Neil, founder of Investor's Business Daily, once told me that you have to be prepared to "move heaven and earth" to get into a leader and that, once in, you "better hang on for dear life."  The worst feeling in the world is to be shaken out of a leader that goes on to be a monster stock.  This very thing had happened to him with Fairchild Camera.  Folks, if you aren't in BIDU formulate an intelligent plan and do whatever it takes to get your share.  Be mindful of risk, of course, but also be aware of the risk posed by being left behind.  If BIDU pulls back to the 368-385 area, pulls back to the 50dma/10wma, pulls back period, snag some shares and start building your position.


Stocks like FIRE, HMIN PEGA and SXCI are becoming institutional quality right before our very eyes.  These and others are a part of the rotation we're seeing out of junk-off-the-bottom (JOTB) stocks and into young, fast-growing companies that are operating in cutting-edge areas of the economy.  If this doesn't make you stand up and take notice, then, sorry, you're not alive.  Pullbacks are inevitable, so be sure to plan your trades wisely.  Give yourself "wiggle room," the cushion that will enable you to operate coolly under pressure.  Don't ever shoot yourself in the foot by chasing stocks.
Best of luck!
Holdings:  BIDU SWI PWRD FUQI GMCR