Yesterday, Israel launched a precision airstrike against Hamas leader Ahmed Al-Jaabari. The strike killed 15 people including civilians and some children.
It was just one of 200 rockets launched since the start of an Israeli operation targeting military figures and installations in Gaza. Palestine retaliated with rockets of their own, killing at least three with one blast in the Negev region.
This is the worst violence between the two states in four years.
And it's the first since Egypt's revolution toppled our only Arab ally in the region.
The peace treaty between Egypt and Israel remained intact when former president Mubarak left the position, but new president Mohamed Mursi of the Muslim Brotherhood might take a harder stance.
He's already called for an emergency meeting of the Arab League, and called the attack "a crime that requires a quick Arab and international reaction to stop the massacres."
And other Arab nations and sympathizers could be circling the wagons.
From Reuters:
Israel's sworn enemy Iran, which supports and arms Hamas, condemned the Israeli offensive as "organized terrorism". Lebanon's Iranian-backed Shi'ite militia Hezbollah, which has its own rockets aimed at the Jewish state, denounced strikes on Gaza as "criminal aggression", but held its fire.
The escalation is scary, first and foremost because Israel doesn't bluff... especially with the hawkish Netanyahu at the helm.
At least for the next couple of months.
Elections are scheduled in January, and Netanyahu's offensive -; though an escalation from ongoing violence -; is seen as "central to the election campaign," according to Yoram Meital, chairman of Ben Gurion University's
Herzog Center for Middle East Studies in Beersheba.
Even Netanyahu's political adversaries are backing the offensive.
Hamas released a statement saying Israel has opened the gates of hell by killing Al-Jaabari.
Israel's army warned -; in a Twitter post, of all things -; "no Hamas operatives, whether low-level or senior leaders, show their faces above ground in the days ahead."
Yes, folks... The sky may be falling.
And oil may be rising.
Andrew Su, CEO of Compass Global Markets in Sydney, told CNBC's Squawk Box today, "There's a possibility of a $5 spike in premium over the next week if there's escalation... if there's ground movement, if the Israeli army moves its infantry into the Gaza Strip."
And that's a distinct possibility.
From Bloomberg:
Defense Minister Ehud Barak said Israel may carry out a ground operation in Gaza if needed. It's last one, a three-week offensive starting in December 2008, killed more than 1,100 Palestinians and 12 Israelis.
Tanks were seen today heading southward on Israeli highways toward the coastal territory. "We are in the midst of a conflict that is far from simple, and it is not certain that it will be short," Barak said in an e-mailed statement from his office.
This was in the midst of plummeting oil prices, the start of the worst financial crisis since the Great Depression. Oil fell off a cliff, from a peak of $147 in mid-2008 to well below $40 by the end of the year.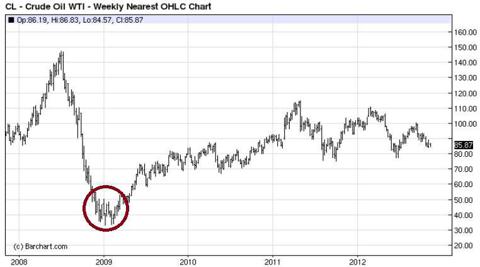 View larger chart
The government was pumping stimulus money into the economy as fast as it could, and in the heart of the fray, Israel marched into Gaza.
The move helped $40 oil turn quickly into $50.
A $5 move is definitely not out of the question.
But beyond oil, things get scarier.
If other Arab states get militarily involved, what will the U.S. do? And would Iran be content to sit idly by if we put our own troops on the ground to stand with Israel?
What will our Congress decide to do about the fiscal cliff and the massive defense budget cuts coming down the pipe if we have to consider backing our Israeli friends with actual military might?
My two cents: Israel has always defended itself -; even against a well-organized Egypt. During the oil-shock wars of the 1960s and 1970s we supplied Israel with weapons and intelligence and symbolic support. But Israel did the heavy lifting.
It would take a concerted effort that included a number of Arab states, and perhaps even Iran, for us to consider force.
Let's not forget that Syria's entrenched in its own civil war, and most likely won't attack through the Golan Heights. Indeed, Syrian rebels are said to hold the villages in that area, not the Syrian army.
So is the sky falling? Not yet, but the tensions are heating up...
Oil investors should keep an eye on the ground game, but don't pull the trigger just yet.
Happy Investing,
Sara
Disclaimer
Article brought to you by Inside Investing Daily. Republish without charge. Required: Author attribution, links back to original content or www.insideinvestingdaily.com. Any investment contains risk. Please see our disclaimer.