MLPs were up 1.4% this week, helped by broader market strength (S&P was up 1.0% this week) and strength in oil prices (futures up 3.5%). There was 1 IPO that crushed it this week, and 2 follow-on equity deals for a total of $572.2mm in gross proceeds. After the debt offering explosion last week, there were no bond deals this week. General partners under-performed this week, due to KMI trading down. Variable distribution MLPs were up 1.5% helped by RNF and NTI, each with another big week.
(click to enlarge)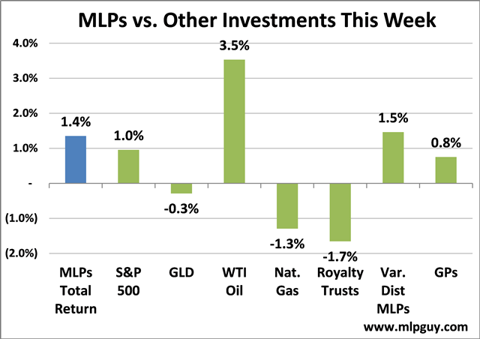 Click to enlarge
We are very near the end of the summer capital markets season. There may be a few follow on offerings that get done in the next few weeks, but no more IPOs until September. That leaves 12 still in public registration. And they all have to be pretty happy with how well the last 3 IPOs have performed in the aftermarket, even though the last two priced a combined $7.00 per unit below the pre-launch IPO price ranges.
Speaking of IPOs, in its first trading day (Thursday), HCLP popped 17.6%. It was the 7th biggest MLP IPO pop ever, and biggest in more than 5 years. HCLP fell 2.6% Friday, but still managed to outdo gains of all other MLPs. LRE and MCEP were up big due to the oil price strength this week. TLLP was up on TSO's announcement of the acquisition of BP's California refinery, because there will likely be some drop downs to TLLP that materialize from the deal.
(click to enlarge)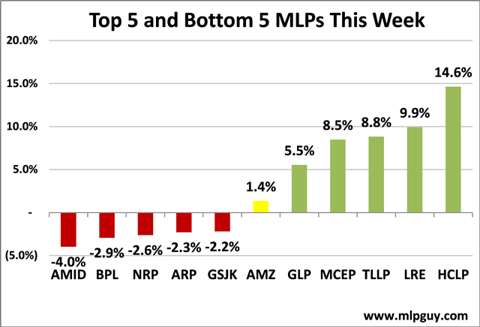 Click to enlarge
Year to date breakdown of the top 5 and bottom 5 is below. CLMT popped back into the top 5 this week, the market liked its latest announced acquisition this week. For the bottom 5, NRP rejoined the bottom 5 this week. Every one of the bottom 5 had a positive week except CMLP.
(click to enlarge)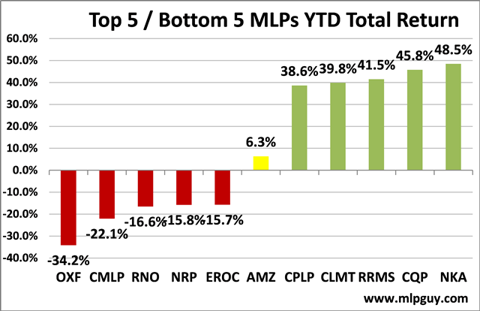 Click to enlarge
Overall year to date, MLPs are up 6.3% so far, which is less than half the return of the S&P 500, but better than a slap in the face. Variable distribution MLPs continue to be huge winners, led by the fertilizer MLPs. Oil and natural gas are down on the year, but oil has risen to more than $96 this week and look s as strong as its been in months.
(click to enlarge)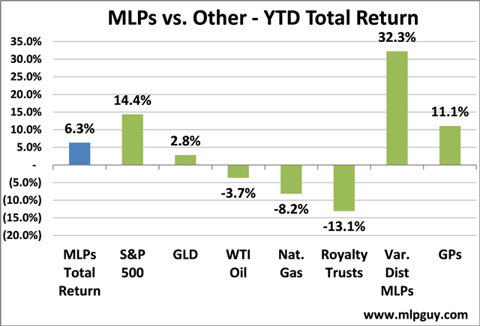 Click to enlarge