PMI Data
The index closed at 51.70 which shows the economy is still growing but at a slower pace. Some interesting comments from respondents posted below. You can read the full PMI report at the ISM Website.
"Market is still very soft." (Paper Products)
"Business is picking up." (Furniture & Related Products)
"[Our] 4th quarters usually begin to show a slowdown in demand, and this year is no different; prices are also dropping." (Wood Products)
"Demand down slightly due to customers pre-buying ahead of announced material price increases." (Plastics & Rubber Products)
"The slowing of capital expenditure in Europe and China has lowered our backlog for Q4." (Computer & Electronic Products)
"We see a general softening in the steel and automotive markets in the fourth quarter." (Fabricated Metal Products)
"Cuts in healthcare reimbursement rates continue to negatively affect top-line revenue." (Miscellaneous Manufacturing)
"Business conditions stable to slightly improving." (Transportation Equipment)
"Sales and order intake have slowed." (Primary Metals)
"Europe is still very much a concern. Global recovery is still fragile." (Chemical Products)
Click here for an interactive version of the PMI chart shown below.
(click to enlarge)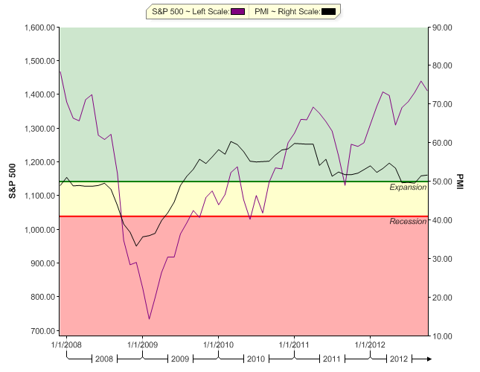 MTR Economic Model: MTR-EM
The MTR Economic Model (MTR-EM) measures the strength of the consumer and is used as a leading indicator of consumer spending. Consumer spending is the force behind bull markets, and lack of consumer spending brings in the bears.
Real-Wages (green line) is flat year over year. This shows consumer spending will have minimal impact on stock prices. The trend in real-wages appears to be downward. Items that will push real-wages lower include inflation and companies freezing any types of pay increases. If this number goes below -2% year over year typically a market downtrend will follow.
Click here for an interactive version of the chart shown below.Click here for an interactive version of the chart shown below.
(click to enlarge)