We recently released our Covered Call and Naked Put Search Engine.

The Expert Option Seller search has produced some great trades for selling naked puts with the intention of those puts expiring worthless.

Here are some of the features of the expert search. You can run these over our database of over 1700 stocks and over 80,000 options.

Option Types: Search for Covered Calls or Naked Puts

Expiration Date: Search one or all expiration dates

Stock Symbols: Filter your search down to a group of stock symbols or leave this area blank and search over 1700 stocks!

Probability of Assignment POA: Low POA options can be good choices for selling puts for income
where you do not want to take assignment.

Out of The Money OTM: Search for covered calls or naked put trades 1,2, 10% or more out of the money. The goal of this feature is to generate income and not take assignment on Naked Puts or have your stocks called away for covered call trades.

Downside Protection DSP: This feature is best applied to Naked Puts. Searching for Naked Puts (example) with 15% downside protection means that the underlying stock would have to fall 15% before reaching the risk of assignment or loss

Return on Investment ROI: When you search for Covered Call or Naked Put Trades you want to sell those options with the highest return on investment.

Market Cap: Filter search criteria by Large, Mid, and Small Cap Stocks

Sector: Filter by sectors such as Technology, Energy... and more

Stock Price: Select a range of stock prices. Example: If you only want to sell naked puts on stocks trading under $15 dollar use this feature.

Profit/Earning Ratio (P/E): Great feature to limit option choices to stocks that are valued to fit your comfort level. If you are a covered call value investor look for stocks trading between 5 and 18 P/E ratio. If you want growth set the values higher.

Dividend Yield: Many covered call investors like to purchase stocks with big yields then sell covered calls on those stocks to make additional income. Search for ranges in Dividend Yield can assist you in finding those stocks.

Watchlist: Click on the Plus Icon to add options to your personal watchlist.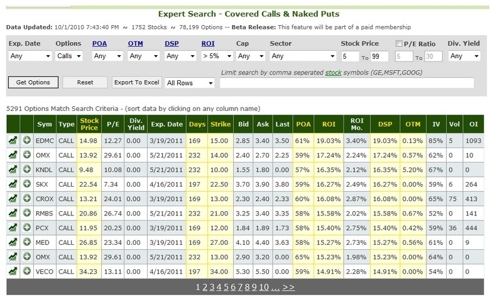 Click to enlarge


Stop by MTR Investors Group and give the option screen a run.