Thursday, January 27, 2011
01/27/2010 - silver spot silver futures
THE VULCAN REPORT
Review of $XAG/USD - SILVER Spot (XAG USD)as of Wednesday, January 26, 2011

Today's Price Action

Change    0.6900 (2.57%) prices closed higher than they opened.  with strong Bids going into the close.
An engulfing bullish line occurred (where a white candle's real body completely contains the previous black candle's real body).  The engulfing bullish pattern is bullish during a downtrend (which appears to be the case with $XAG/USD - SILVER Spot).  It then signifies that the momentum may be shifting from the bears to the bulls.
If the engulfing bullish pattern occurs during an uptrend, it may be a last engulfing top which indicates a top.  The test to see if this is the case is if the next candle closes below the top of the current (white) candle's real body.
     
MARKET SENTIMENT
  PulseScan Swing Vix
PulseScan:    -38.85Swing Vix:    -39.03
The Market Pulse is negative since it is trading below its zero signal line.The PulseScan crossed above the Swing Vix creating a UP Trend Channel as of    0 period(s) ago.This means that positive momentum has entered the market. Expect sideways to higher prices within the next 3-5 days However, the Swing Vix just crossed above -39 from a bottoming formation. This is a bullish sign.  A buy or sell signal is generated when the Swing Vix moves out of an overbought/oversold area.  
*The last signal was a Over-Sold Buy  0 period(s) Ago.The Swing Vix does not currently show any Failure Swings.The Swing Vix and price are not diverging.        *Since the last Swing Vix signal, $XAG/USD - SILVER Spot's price has been unchanged, and has ranged from a high of 27.6400 to a low of 26.6500.
     
MOMENTUM

     MARKET TREND - Currently the TREND is - Neutral within the Bullish KUMO Consolidation cloud (Possible Trend Reversal) with Downside Bearish Breakout risk. A close above  28.4300 is needed to re-establish the upward trend. However A close below  26.7550 will establish a new downward trend.
        TREND STRENGTH - ,
There is currently no trend strength reading at this time.

TRENDLINE RETRACEMENTThe close is currently Above it's PulseWave Cycle TRENDLINE RETRACEMENT. -  23.0900The close is currently Above it's Long Term TRENDLINE RETRACEMENT. -  22.4332The close is currently Below  it's Intermediate Term TRENDLINE RETRACEMENT. -  27.6783 The close is currently Below  it's Short Term TRENDLINE RETRACEMENT. -  27.9028 

INTRADAY PRICE PROJECTIONS
RESISTANCE  27.4172SUPPORT  26.8728

WEEKLY PULSE WAVE PRICE PROJECTIONS
PulseWave BreakOut RESISTANCE -  29.4900PulseWave BreakOut SUPPORT -  26.5400

VOLATILITY
On 1/26/2011, $XAG/USD - SILVER Spot closed   above the lower band by 22.2%.This combined with the steep downtrend suggests that the downward trend in prices has a good chance of continuing.  However, a short-term pull-back inside the bands is likely.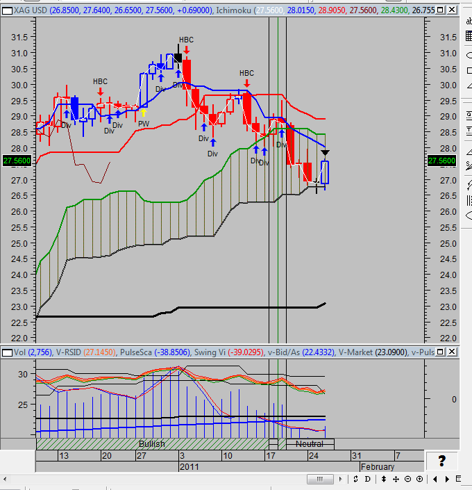 isk Disclosure