This is just a personal diary post. Therapy.
Well it's been a few days, and the screaming at myself in the mirror has subdued, but jeez I can't believe I was afraid to click the buy button on $GALE back on Tuesday Mar 19, 2012.
I just wasn't sure what it was going to do. Because of that fear, I missed earning AT LEAST $3,000.00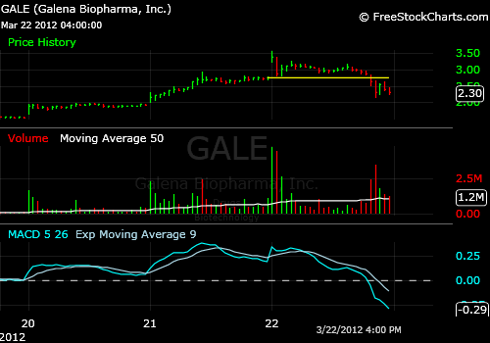 Click to enlarge
So I'm working on getting over that fear.
I tell myself I can set a stop, and limit my losses, so why don't i do it?...
The next day, $GALE went through the roof. But I didn't expect it. I thought this was only going to be a 1 day pump and dump. Especailly because the chart from Tuesday had very minimal range.
But Wednesday morning it gapped up crazy. I saw the volume premarket, and knew something was going to happen, but I was afraid that I would get in, the price would fall and I would lose money.
Then after it jumped up, I was afraid I missed the opportunity and it would fall. So I got mad and walked away from the computer for the rest of the day, screaming at myself whenever I walked in front of a mirror.
Finally Thursday I told myself I was going to play this at market open, and get over my fear.
I bought 2,000 shares at 9:31:48 am @ $3.25
Then I setup a trailing stop, so if it dropped by 5 cents, I would get out. I was still fearful. I did not trust it. Especailly on day 3 of the run.
But I still had fear. I did not submit my trailing stop order immediately, because I wanted it to conitue to climb, and didn't want to cut my profits off too low. I was overjoyed as my position gained $500 in less than a minute. Then it started to fall.
By the time I clicked the stop loss order, and it triggered, I only profited $160.00. Oh well, at least I didn't lost money. BUt I kept kicking myself because I missed the gain.
I thought it was over.
Then shortly thereafter, it fell to $2.86 and then ran up to $3.25
BUT I MISSED IT, BECAUSE OF EMOTIONS!
So I'm working on getting over this fear.
Any tips you want to share are appreciated.
Any rude comments like, "shut up wimp", well, I'll just try to ignore those and consider it part of my tuition on learning about the swing trade.
Disclosure: I have no positions in any stocks mentioned, but may initiate a long position in GALE over the next 72 hours.
Additional disclosure: I probably look like an idiot to you experienced traders, but that wont stop me, ha ha