Excuse the generic writing but exploding media, investor and public interest in the current sovereign health of developed nations is on the tip of everyone's tongues. I find it an interesting observation that there has been a macro divergence in public sector balance sheets. This divergence refers to developed countries such as the US, who have been the global leaders with respect to technology, GDP capacity and industrial innovation of the last century. We are now witnessing this success transform into a sinking ship of debt while selected developing countries bask in surplus and ponder capital allocation to maintain their trending advance towards social and economic enhancement.
So is there a case for a developing continent such as Africa to be outlined as an improved investor landscape due to their public financial health? There is of course a lot more to an attractive investment environment than public sector finances but in more ways than one, the public sector can be a representation of the fundamental aspects of the country in question.
The biggest issue to determine macro fundamentals is the front running demographics which is a daunting issue for governments seeking to boost output. Taking Europe as an example, by 2050, 50% of the population will be over the age of 50. Compare this with India which has a current average age of 26 while in Uganda, 50% of the population under the age of 14 (versus 20% in the US). How can you increase output with aged workforce approaching or actually in retirement?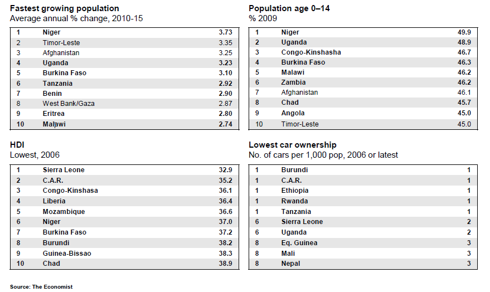 Click to enlarge
I recently had lunch with the head of strategy and development at the Nigerian Stock Exchange. He started work there five years ago. Explaining the financial infrastructure when he arrived, there was low liquidity with trading restricted to equities only. I thought that this was akin to the way in which the Dow Jones operated at the beginning of the 1900's. After five years, options and futures are about to be introduced while a number of REITS have been successfully launched. Exchange Traded Funds have been appeasing and corporate bonds are beginning to find buyers. So in five years, the Nigerian Stock Exchange has developed the technology and products that took the US 75 years to create and implement.
So how can a high taxed default ridden developed world keep pace with the flexibility that emerging markets have with their finances!? There may still be a long way to go before the current dominating countries get overtaken by relative GDP but as investors we should be considering value for investment return and current growth models are all pointing towards developing economies. 
Disclosure:
No positions at the time of writing