The S&P CNX Nifty index seems to have lost its strength after the flash crash of 5th October 2012. It is hard to imagine a fresh uptrend unless the index moves decisively above its Oct 5 high of 5815.
In fact, a head and shoulder seems to be forming and we are in the right shoulder.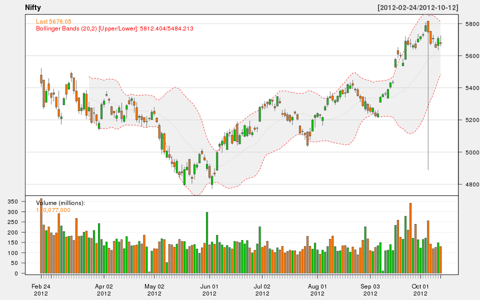 The clues are
A substantial run up : this move started on June 4 this year at 4770.35. The nearest intermediate top was Oct 5 at 5815.35. The extent of this move is 1045 points.
This run up exhibited breakaway gaps, runaway gaps and finally exhaustion gaps
The volume of top on Oct 5 was lower than the previous top. Further, volume has dropped as the pattern progressed.
The neckline of this H&S is at 5637. A move below this level will signal further lows. The immediate target is 5458.
No trade is suggested immediately because the right shoulder hasn't been completed yet. Trading ideas will be at my trading blog
Disclosure: I have no positions in any stocks mentioned, and no plans to initiate any positions within the next 72 hours.