Optionity Core-20 Options Portfolio (Credit Put Strategy)
Stock criteria:
Large Cap with low beta
Fair/Under-valued
Consistent, strong earnings
Dividend distribution
High liquidity, large volume
Good/strong economic moat
This options portfolio consists of 20 core stocks. The portfolio will employee mainly the credit put strategy with the primary objective of generating consistent cash flow. The portfolio focuses on 1) sufficient sector diversification 2) risk/reward ratio control 3) margin of safety by leveraging options.
Daily portfolio performance will be updated at Seeking Alpha Instablog and Optionity.com.
Transaction details will be updated whenever new position is opened or the existing position is closed/expired/adjusted.
Pending transaction(s) to be setup:
Click Here for detail
Options Market Recap
Thursday's market sentiment was driven by extreme greed with Fear & Greed Index at 86, which had decreased from the previous close of 92. As reported by CBOE, the total put/call ratio was 0.91 for the day. The index put/call ratio was 0.74, and the equity put/call ratio was 0.73. The CBOE volatility index (VIX) put/call ratio was 0.34.
(click to enlarge)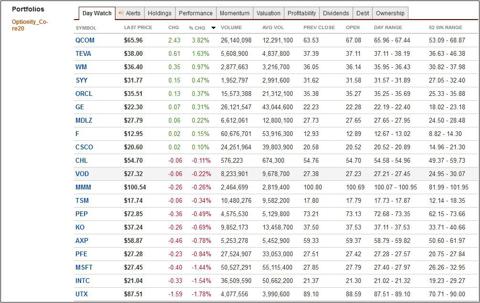 Click to enlarge