The Friday fancies tradition continues with another week of looking for stocks that are at decent prices relative to contemporary trends. This week has been a touch tricky relative to normal weeks perhaps. Its been an interesting week concerning global events with The Crimea situation waiting for the shoe to drop in regards to some sort of potential naval skullduggery, as well as the ongoing trials and tribulations of missing airplanes. All the whilst however, the stock market has been doing pretty good.
A few stocks that have been taking somewhat of a beating as of late include the likes of Terra Nitrogen, a nice high yielder, that has seen some greater than 1% drops as of late(NYSE:TNH). It currently has a pretty comfortable yield, even though it suffered a touch recently(the yield), but its still a potentially decent investment. As chronicled earlier on ye olde instablog, its one of the urea-centric, amongst other things-companies, and is in the nitrate business I guess one could say. The price for the stock is at somewhat of a low point in regards to the price for the past 3 months.
Another company thats seen some losses as of late, is BEP. BEP is a renewable energy investment focused entity. However, it may be good to wait a bit before jumping on this decline in price perhaps due to BEP being still in a high bracket per se regarding its price over the past two months, as well a somewhat ominous recent downgrading per se. So this sort of fits the Friday fancies lowered price criteria, but it still may very well have a bit further to go before it really becomes a tasty buy per se.
An interesting buy for this Friday, could be FPO. FPO is an interesting Reit, it is focused on residential properties around the DC metropolitan area. Its currently switching its profile a bit, selling non-residential based properties in some cases, and hence is taking some hits for that amongst other reasons perhaps. Reits like this could be an interesting play in the mid to long term per se, depending on how one classifies one's own time horizon's per se, because there has been some news as of late, of some foreign real-estate investors liquefying(<-surely this word has sent many a young spelling-bee contestant packing) there holdings in some cases, which could lead to some well priced residential amongst other property type, acquisition targets for Reits. For a Reit that is freeing up some cash of its own, through selling some of its properties this could perhaps be quite fortuitous in so far as "timing" is concerned. So, though its not really a Friday fancy for traditional Friday fancy reasons, it could be sort of a good pick in general perhaps for the mid to long term, if they play there cards right and get some good deals on residential properties with their newly liquid capital. Perhaps that is a big "if", but its perhaps better than no "if's" so perhaps its a decent Friday fancy.
Thanks again for reading, and in keeping with the "Friday fancy" tradition, here is everyone's favorite feathered uncle;
source; http://images6.fanpop.com/image/photos/35700000/Carl-Barks-uncle-scrooge-mcduck-35708413-1600-1263.jpg
(click to enlarge)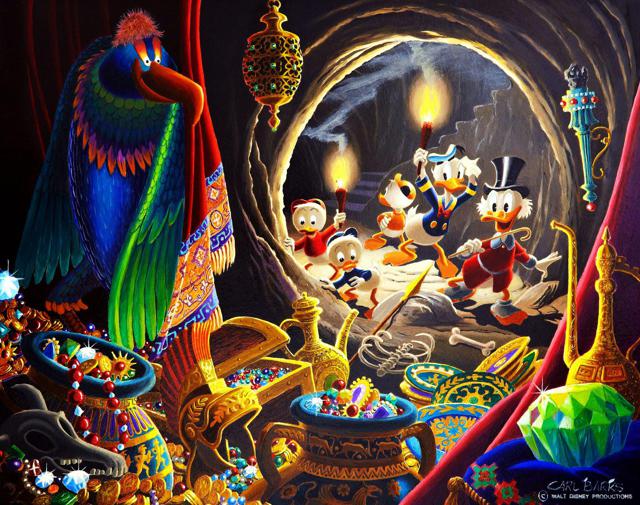 Click to enlarge