This Thursday seems to have been a sort of brutal day for many sectors but some more so then others. Two of the main themes that really stand out are essentially related to "methods of conveyance".
-----
Though it may be a bit early to say that it has stopped raining per se,and that its safe to hazard into these ventured sectors, one sector that really seems to have been hit with a major "where's my keys" moment was the "medical marijuana" sector. Though this sector is a little more complicated as of late, due to some changes of heart per se, by various legislators in the pacific northwest concerning the legality of this smokey pain salve per se, this whole sector is still presumably somewhat in a cloudy phase per se in regards to legality and its future. However, with an average drop of about 15% yesterday, a few of these green penny stocks, might make someone a pretty penny on the upswing per se, if one is to occur. The stocks down 15% yesterday on average, were none other than TRTC, HEMP, and CBIS.
-----
The other method of conveyance that truly felt the wrath of this particularly rough day for stocks in general, was none other than our sea-faring matey's in the predominantly gas/etc. lease(in some cases) over-sea transport business. Namely, stocks like NM(Navios), and TNP(Tsakos) shipping companies took a 3-4% hit in general, so these high yielders (in general), may be at a bit of a discount for the moment, whether they'll go down further, who can say, but there does appear to be quite the buoyancy and volatility to these stocks either way.
-----
For who benefited from yesterday's sanguine harvest per se, one need look no further, than our friends in the agri-business(in general). Though Gladstone Land(NASDAQ:LAND) perhaps exhibited this sector-specific resilience by only being down about .38%, others such as the global-scale ag. plays like AGRO, and CRESY, were up for the day. Some sort of obscurer investments were also up, including various central European index's like that of the Ag. and Gas associated Romania(DWRO), as well as perhaps another sort of more acute commodity play like the proverbial sick-man of commodity hedges, CFD, which has been slowly losing value, price-wise, for more than a few months per se. Amongst other winners were very "special" investments, like MFV, which has been declining in price for quite some time like CFD, however, this can not be said for all "special" investments(some "special" investment funds were down for the day.) Perhaps these sorts of investments(special) would serve as a good sort of research topic in the future, for perhaps they are as intriguing to others as they are to me per se.
------
Either way, its always been a great day for the mascot of Friday-Fancies, namely Uncle Scrooge McDuck, and hopefully everybody and their portfolio is doing great, despite the recent volatility per se, in the stock market; without further adieu, Scrooge McDuck himself;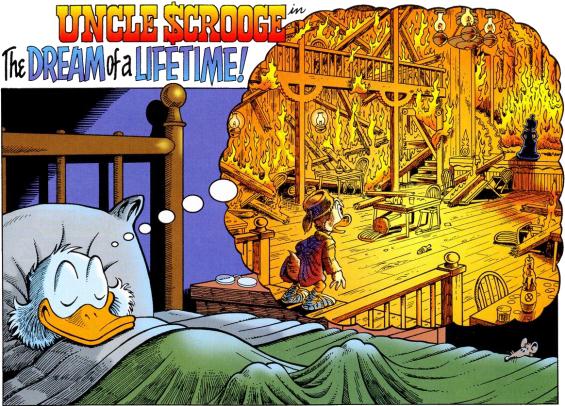 Source; http://www.sffaudio.com/images13/UncleScrooge TheDreamOfALifetime565.jpg