Sometimes interesting correlations exist in markets, that one would normally suppose wouldn't. In this case, I've had a monkey-obelisk moment in regards to Silver and MPW. Now I guess one could make a case that Silver is vaguely associated with MPW through silver use as a medical product at times, due to its anti-bacterial properties. Apart from that however, MPW isn't building hospitals out of it,(Even though that would be very if cool, if kind of expensive), but the two seem very friendly with one another.
Its kind of fascinating. In an earlier post I mentioned that I check silver every day, because its an interesting commodity to watch, kind of retail investorish at times, kind of industrial, its an interesting commodity.
Either way, in thinking of today's market movement, and attempting to rationalize them, I noticed MPW's odd correlation with silver.
If you overlay the two on a chart, you'll notice that for some strange reason, MPW almost sort of front-runs silver, and not only that, but if MPW makes a move, than silver is almost sure to follow. If MPW goes down by 30%, well, then give it about a month and a half, and silver is sure to follow suit. Silver is up 5-10% relative to MPW, no worries its just a matter of time until silver gets with the programs and loses 5-10%.
Of course this could all be the result of MPW and Silver's correlation in regards to the market as a whole, however, the overlapping prices movements, at least in so far as SLV is concerned is really kind of interesting.(click to enlarge)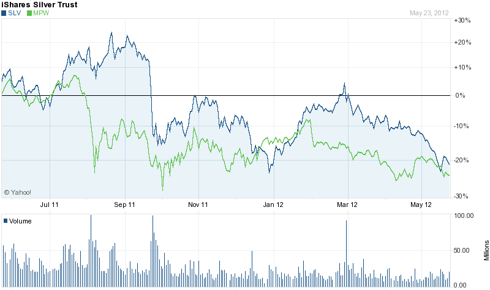 Click to enlarge