Now that the salty dogs are slowly returning to their ships(flowing back to standard investments), and getting their sea legs back(regaining confidence), we're seeing outflows from most of the stocks mentioned yesterday.
Yesterday's shock must have been quite profound from the look of things too, because as could have been a surprise to some, EXM saw inflows yesterday.
For those not familiar with EXM, the ship has an interesting tale, and will presumably now be greeted with folklore like Captain Ahab at the mention of its name.
For a brief period during the beginnings of the financial crisis, EXM was actually somewhat of a heralded investment. For several months, it rose to high heights, on buying fervor, and actually rose in price very quickly. However, as is all too often the case, this heralded darling, was not a super-stock, and instead turned out to be a "flavor-of-the-quarter", and like a hounded pop star, soon sank bank into obscurity, amongst the masses of investment opportunities.
EXM's Saga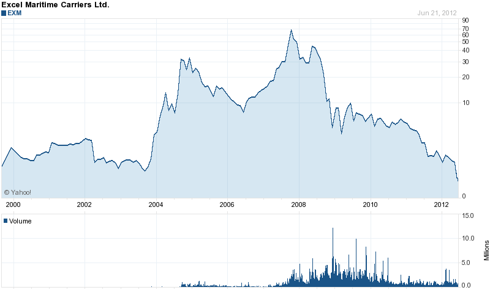 Here's the scene from Moby Dick, that relates to this analagy;