As was first mentioned in the series on why healthcare Reits were a good investment, today's government(supreme court) ruling has boosted healthcare Reits.
Had there been some sort of cap on the amount healthcare could cost, then this wouldn't have been good for healthcare Reits, or at least may have been a mixed bag.
However, as those familiar with the M.O. of DC surely know, lobbying power fuels many decisions, or at least elements of decisions made in DC. Hence, if there was a cost cap at least I'm unaware of it, and seemingly so are most other investors, as this ruling by the supreme court legitimizing the new healthcare laws(healthcare or 5K$ "Tax"), has lead to a temporary increase in the price of healthcare Reits.
The best macro trades, and the "biggest" macro trades, are usually fueled by the government. Before the wars in Iraq and Afghanistan, it would have been sage, if possible to invest in companies like KBR, and Haliburton, because it would have been clear that they were about to get a lot of government(see not-too-picky) business. When KBR brought in cans of coca-cola to Iraq and Afghanistan instead of buying local, they made a killing selling six packs to the government for something like between 20-60 dollars per pack.
This is why contracting/operating with the subsidy of the government is like having a cornucopia of not-too-elastic demand for one's products or services.
Hence, when it became clear that the government would subsidize Healthcare in a big way, Healthcare Reits became an obviously good play. MPW in particular due to its acute-care emphasis, and ownership(triple lease) of a handful of health care facilities, benefited along with its ilk, the most today.
Even if the supreme court had ruled the other way, there would have been more than enough Medicare/caid/random benefit dollars to prop up health care providers, but now with this, they are seemingly even more assured of essentially future cash flows.
This brings perhaps a funny accounting/finance gimmick to mind. Sometimes when valuing projects, one will value the future cash flows in a way which models them in a perpetual manner(as in never-ending).
Since healthcare is supported by the government which is in turn supported by mandatory taxes, one could argue, that given the current playing field(state of medical coverage in the US), it would be not so inappropriate to value these medical Reits the same way.
Thus once again, the government has provided us with a great Macro play, courtesy of its subsidization of the US' medical institutions.
Hopefully soon this will provide benefits for all Americans(health), but for the time being it is at least providing some more money to stuff under the mattress(proverbially speaking) for those who choose, or chose to invest into healthcare Reits.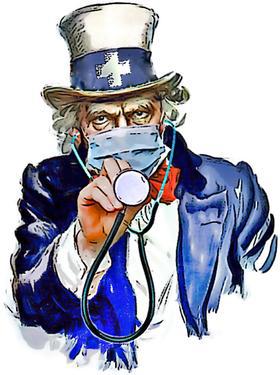 Photo From Atlanta Business Journal(Found Via Google Image Search)