Did you know that 80% of all businesses fail in the first 5 years while 80% of all franchises enjoy success past 5 years? You don't have to be a genius to realize that there is a strong message being sent by those numbers. Here's the #1 difference between the two: franchises rely on a framework for business success that has been perfected and proven over time and most businesses operate without documented systems.
Business Growth U.S. implements a proven framework for small business success that helps your business develop and execute the money making activities that it needs to do every day to sell more in less time.
We help you target your ideal client, understand exactly what they want when they make their decision to buy, and create compelling marketing messages that enable you to out-market and out-sell your competition. This allows you to out-smart, out-market and out-sell your competition…and dominate your market.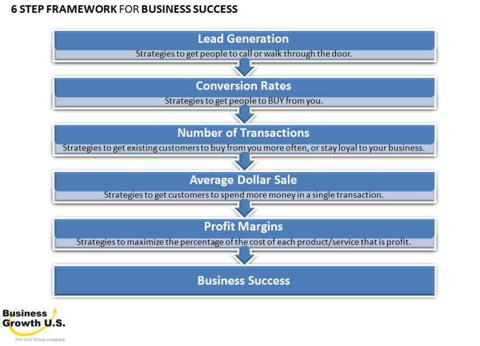 Our business growth strategy has been recognized by several highly respected national publications, including Entrepreneur magazine, Texas CEO magazine, FOX News, CNN, USA Today, The New York Times and The Wall Street Journal.
We are a team of certified coaches, consultants and trainers who are focused on helping organizations improve. Our staff includes consultants who have diverse skills in business coaching, management consulting, marketing strategy, financial performance and sales training. We exist to serve client organizations who are seeking revenue performance improvement … and the ability to more rapidly respond to opportunities as an organization.
Does your firm need more leads, more conversions, more transactions, higher prices and increased profits? Take the first step today and call us to setup a FREE Business Growth "Possibilities Session". In that session we'll explore what challenges you and your top team are facing, what kind of results you'd like to see instead, and whether this program could help or not. Whatever the outcome, you'll leave the conversation clear about the issues you're facing and excited about what's possible. Call (972) 727-6880, email info@businessgrowthus.com .