Didn't we just live in this nightmare?

Is anyone else to the point where they wake up and wonder how much the stock indexes are going to be up today?

The market climb has been relentless and it seems like it might never end. The midset out there is in full agreement with David Tepper: "If the economy improves, stocks will go higher. If the economy falters, the Fed will print and stocks will go higher."

Now that the GOP has won the house and reports are that Fed-Slayer Ron Paul will be taking over the chair of the Monetary Policy Subcommittee, one has to stop and wonder if the Fed will be able to accomplish Teppers second prediction.

That said, the chart of the Dow is showing a pattern that makes me think I am Bill Murray in the movie Groundhog Day, reliving the same day over and over.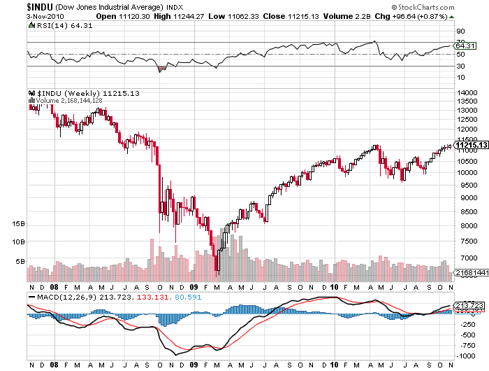 Take a look at price action around January of 2010. After going up non stop for months, the Dow hit a rough patch around 10750 and went down for three straight weeks and bottomed around 9900. After scaring people into thinking the never ending ride higher to Fed induced riches might be over, the market turned around and went straight up for 10 weeks withough even the thought of a correction. The tenth week saw a massive surge in which the week closed on a new high. Then the 11th week came, a new high was made, but the week closed down, thus wiping out the gains from week 10. One week after this - the flash crash hit.

Fast forward now to August. Around the 2nd week of August, the market peaked out at, you guessed it, 10750. For three weeks the market pulled back to around, you guessed it again, 9900! Everyone again was feeling the investing blues. Then September came and began an endless march to stock nirvana.

Not that past performance is indicative of the future, but is anyone else slightly concerned that this week is now the 10th week of this straight up pattern? So far we have matched step for step (almost to the point) the pattern earlier this year. If the pattern continues this way, we should expect a strong end to this week, followed by new highs next week and a reversal. This reversal will be a few % points and will have the perma bulls telling everyone it is a dip to be bought.

I would caution that you give it another week after that before buying just to make sure the correlation of the last Fed induced ramp is not leading us to another crash two weeks from now.

If this is the never ending ride straight up during a new bull market, you will have plenty of time to get on board. In the short term, make sure this pattern playing out is nothing more than a coincidence. Better yet, look to use puts while the VIX is low to protect the downside of your long exposure.




Disclosure: Long SPXU, SDS