Two weeks ago, I posted about how luxury goods companies are in for some rough sledding.  Today, they tanked.  There is some worry that a slowdown in Chinese growth will disproportinately hurt these companies.  That is a concern, but I still worry about a slowdown in spending among high-end consumers in the US.  In fact, recent Amex data supports this worry:  http://j.mp/o1xZO7 

These stocks are now down more than 5% in aggregate since my post and I think they may have another 25% downside from here.

For the 7 stocks discussed in my article, here is the carnage today on above average volume: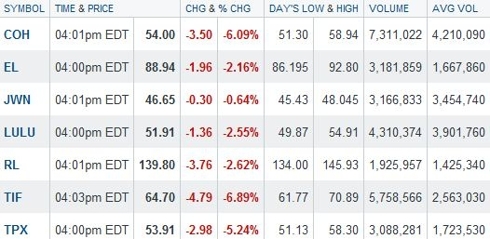 Source: Yahoo Finance

Disclosure: I am short all of these except JWN and COH.