There are times where a stock becomes the focus of attention for both value and growth investors (as much as I hate to use those hackneyed terms).
Apple (NASDAQ:AAPL) is a perfect example - it's a company whose products so many people love, and one whose stock has been under-performing, making most of the conventional metrics look value-like.
Apple's TTM PE ratio is 10.1%, and its forward dividend yield is 2.8%. TTM free cash flow is very close to the earnings (2% higher). If you stopped digging here, this would be a slam dunk investment.
But if we look at Apple's history beyond the past year, it becomes more clear that while it may very well be a great investment, it is a speculative investment and not a traditional value investment.
The graph below shows a history of the net margin for Apple: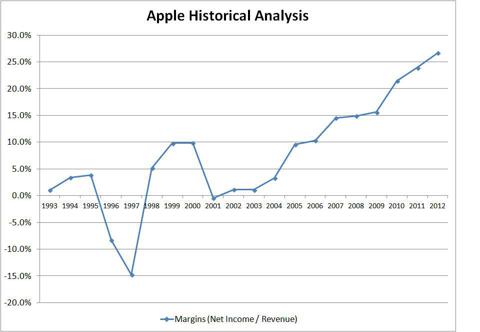 As you can see, the margins have been on a tear, rising to close to 30% most recently. Is Apple a proven 30%-margin company? The graph hardly demonstrates a proven ability to earn this level of margins. In contrast, I recently wrote an article about Coca Cola (NYSE:KO) as a great value investment (see bit.ly/11bxOIZ). Below is a graph of Coke's margins: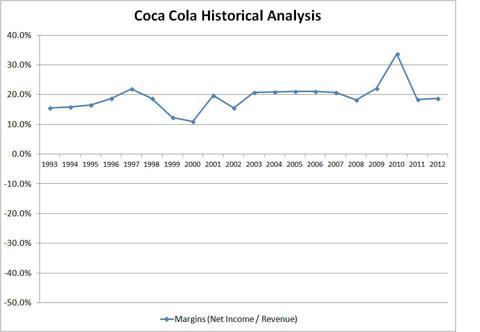 You can see 2 interesting things here: 1) Coke earns lower margins than Apple, and 2) Coke has earned high margins for a long time. While I realize that Coke and Apple are in totally different businesses, you could do this analysis with any other stable value stock and get the same conclusions. The first point is perhaps the most worrying for an Apple investor - does Apple's business model really allow maintaining these higher-than-Coke margins for a long period of time? Regardless of how you answer that question, you are entering speculative territory by needing to predict the future much more than a value investor would be comfortable doing.
What if we look at Return on Equity (ROE)? The graph below shows that again, Apple's ROE has zoomed up in the last decade - great for investors in the *last* decade, but what about the *next* decade? It is hard to claim that Apple has proven its ability to reliably earn extraordinary returns for long periods of time.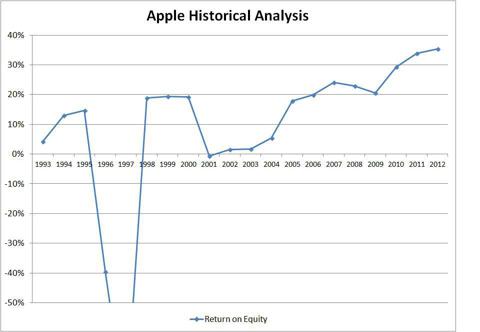 My final argument will be the graph below, which shows the PE yield calculated two different ways - one (in blue) as the traditional TTM earnings divided by the price, and the other (in red) as the 5-year-average-EPS divided by the price.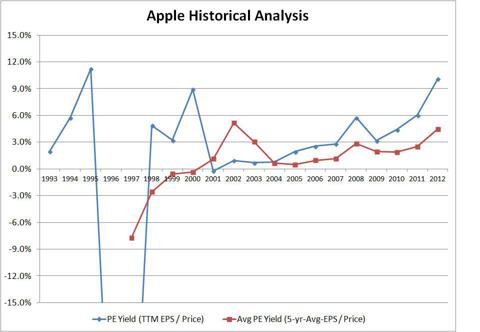 You can see that the red yield is only 4.5% based on today's prices. This again highlights that Apple's high earnings yields are only valid if you assume Apple's ability to extend, or at least maintain, its very recent track record of sky-high margins and returns on capital.
I want to re-iterate - the purpose of my article is not to argue that Apple is a bad investment. It is just to say that if you buy Apple stock, you should do it knowing that you are trying to predict the future of its business model. That prediction will determine whether you are successful or not in your investment. If you, like me, are a value investor that wants to minimize predictions (i.e. speculations!) of the future, then you should pass on Apple - by my calculations, only if it was trading near $300 per share would I get interested.
Disclosure: I am long KO. I wrote this article myself, and it expresses my own opinions. I am not receiving compensation for it (other than from Seeking Alpha). I have no business relationship with any company whose stock is mentioned in this article.