The year of 2013 is full of stories of phoenix rising from ashes: Chelsea Therapeutics (CHTP), BioCryst Pharmaceuticals (BCRX), EnteroMedics (ETRM)......, just to name a few. More and more pieces of evidence indicate that FDA is increasingly willing to listen to biotech companies' arguments and show lenience if the drugs under review demonstrate reasonable efficacy and safety.
For example, in February this year, FDA changed stance and allow CHTP to file NDA based on short term benefit of Northera in patients with NOH. Originally, FDA insisted that long-term "durable" effects must be used as basis for approval. Shares of CHTP has soared from under $1 to over $3 in July.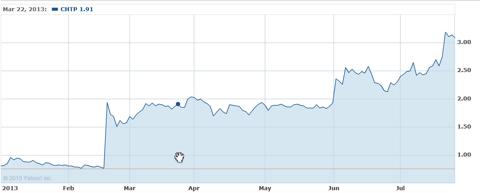 Another success story is BCRX. IV Peramivir failed to demonstrate statistically significant improvement over placebo arms in the pivotal phase III trial. However, FDA allowed the company to file NDA probably on the basis that Perramivir is a neuraminidase inhibitor that is quite similar to the other two (Tamiflu and Relenza) that are FDA approved and currently marketed in the US as Influenza treatments. Shares of BRCX soared from $1.2s to as high as $5 in July.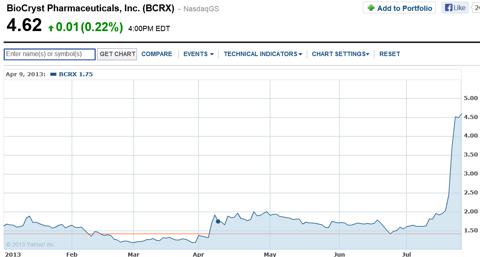 Now let's come back to Delcath(DCTH). U.S. Food and Drug Administration's (FDA) Oncologic Drugs Advisory Committee (ODAC) voted down MelblezTM Kit back in May. The company has PDUFA goal date on Sept 13, 2013. Now the company is trading at 0.38. The market cap is $37M, which is below the cash level.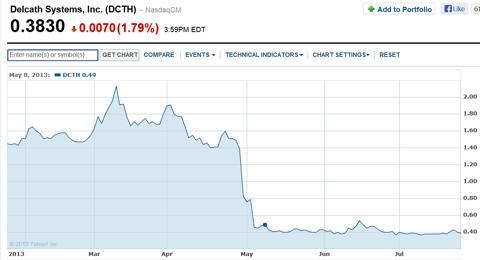 But don't be so quick to give death sentence to DCTH yet. Currently the company is working diligently with FDA to find a path forward. There are quite a few catalysts in the near future that could bring DCTH back to life. I'll discuss them one by one below.
1). FDA positive opinion on Gen 2 adoption and/or a less severe CRL on Sept 13, 2013. The FDA briefing documents released before the FDA panel meeting stated that additional clinical trial data would be necessary to consider the Generation Two filter for approval. The company asked the agency for an urgent meeting prior to the ODAC, which was granted. During this meeting, the company discussed its belief that since the filters are downstream of the melphalan delivery to the liver, they do not impact efficacy. The company is awaiting the FDA's decision on what additional clinical data will be required to approve Gen 2.
I believe there is quite a big chance that FDA will accept the company's argument. The filter can't play a role in efficacy since the filter is only involved in removing the chemotherapeutic agent after it's done in job in the liver. So regardless of what filters used, when in fact even if no filter was used, the liver would see the same treatment dose and will have the same efficacy response. The company can also leverage both the U.S. EAP and compassionate use data, as well as the European retrospective and prospective safety data collection to support Gen 2 approval.
I also believe FDA has a motivation to move CHEMOSAT forward and a mild CRL could be possible. After all the clinical studies were completed pursuant to a Special Protocol Assessment (NYSE:SPA) agreement and largely met the predefined criteria. And the kit is still being used in US expanded access program on a compassionate use basis.
2). Publication of Phase III data to support compelling reimbursement for CHEMOSAT in Europe. The publication plays a critical role in the 7 EU target markets for reimbursement. Right now the publication manuscript has been circulated among the authors and is in the final stages for publication. EU market is a significant market and can bring in substantial revenues if favorable reimbursement decisions are granted.
3). Partnership news in other major markets. The company is working with a distributor in Australia and New Zealand who is doing a market feasibility study that is scheduled to be completed in the near future. The distributor, according to the company, is a subsidiary of a very large, well-known company that they are not at liberty to name yet. Delcath could also strike a deal in China, which is one of the biggest liver cancer treatment market. The company's EVP and CFO, Graham Miao, is a Chinese well-connected in mainland China and is actively helping the company look for a partner.
Investor interest in DCTH will definitely increase if any of the near-term catalysts are realized positively. Given that the valuation of the company is below the cash level, the risk/reward is highly attractive. Any positive news could send the shares soaring.
Disclosure: I am long DCTH. I wrote this article myself, and it expresses my own opinions. I am not receiving compensation for it. I have no business relationship with any company whose stock is mentioned in this article.