Our Recommendation: Wait for clarity on Q4 performance (quarter results will be announce in Feb 2013) before initiating any change in stock position.
Fair value estimate: $20 - $24.
See valuation grid below for how the numbers stack up.
Turnarounds are hard and the vast majority of companies fail. For BBY a lot of the bad news has been priced in. Failing any evidence of a sustained recovery in top line growth this stock should be avoided - however on the flip side if they do manage to beat low expectations there is tremendous upside.
Management:
The leadership team at BBY is in turmoil. The current CEO has been in office for a few months now, the search is on for a new CFO and there is a large degree of uncertainty regarding the strategy for the company going forward.
Stock Performance:
Total Returns over 2 years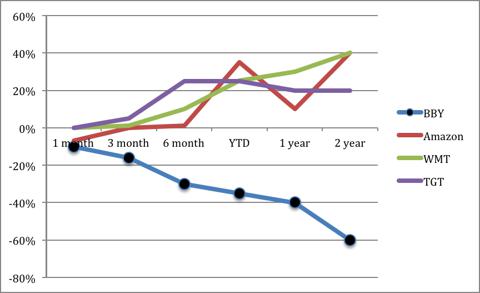 The chart above says it all. BBY investors have been taking a bath. In 2 years the total return on the stock is down 60% while competitors like Amazon and Walmart are up 40%. Just in the last month the stock has lost 10% to move below $16. This despite talks about a buyout offer valuing the stock at roughly $24 . Clearly the market has given up on this stock.
Fundamentals:
This is where it gets interesting. A dcf analysis with conservative estimates of negative/low growth for the next few years still prices the stock above its current price. See details below. Particularly with a worst case estimate of ~ 45B in revenues for the next 7-8 years.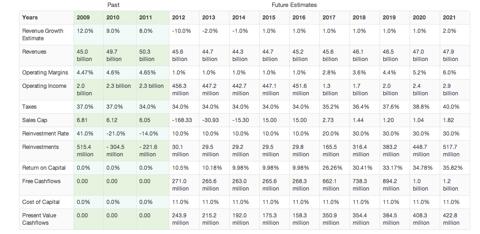 Relative Measure:
Low growth stocks typically have lower multiples and BBY is no exception. Based on EV/EBITDA it's trading below radio shack.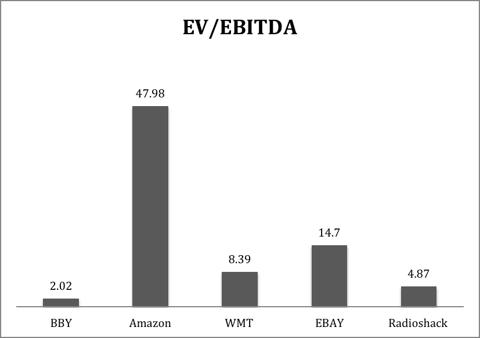 BBY - Price versus EPS Overlay

In short, BBY holds a lot of promise, the market has basically written them off and they might well be -- however Thanksgiving/Christmas sales and the pending Buyout offer should support this stock and potentially drive it higher.
Additional Reading:
http://seekingalpha.com/article/949451-mapping-out-best-buy-s-q3-warning
http://www.startribune.com/business/176694571.html?refer=y
Disclosure: I have no positions in any stocks mentioned, and no plans to initiate any positions within the next 72 hours.