Our Recommendation: Wait for a couple of quarters to see if Nokia handset sales stabilize (they seem to be in free fall right now) and if customers are adopting the Windows mobile platform.
Fair value Estimate: $3 - $5
See valuation details below
Stephen Elop has been in charge for over 2 years now and has seen the stock slide over 70% during his tenure. Ten's of thousands of jobs have been lost and more to come in the near future. But then the seeds for Nokia's current woes were sowed more than 5 years ago when it failed to recognize the huge tidal wave of smartphone adoption across the world. Samsung (KR:005930) is a good example of a company that hung in there with Apple and has really adopted a fast follower approach .
5 Year Total Return
005930 - Samsung Electronics; TW:2498 - HTC Corp. Not traded on US exchanges

1 Year Total Return
005930 - Samsung Electronics; TW:2498 - HTC Corp. Not traded on US exchanges

Nokia's current strategy of betting its future on the Windows ecosystem is a risky one, though one could argue its choices were limited. The reality is that even if Windows mobile is a success there is going to be competition from other manufacturers. In fact a quick glance at the picture below shows that the Lumia 920 has strong competition starting right out of the gates.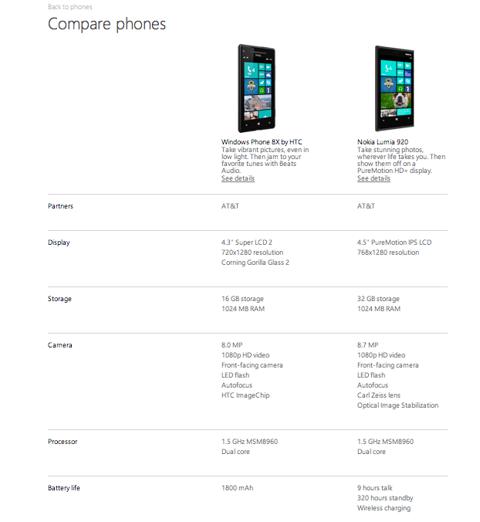 The hope must be that in partnership with Microsoft they would have a competitive edge in chipping away at the blackberry's stronghold in enterprise mobility.
Valuation Details:
2012, 2013 estimated revenues of roughly 37 billion USD with negative margins and then a slow recovery in 2014. This is a conservative forecast. For example, negative earnings will help reduce tax outlays for the years ahead and increase free cashflows.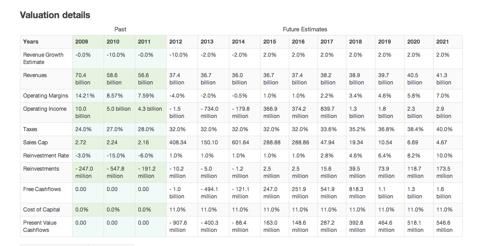 If you'd like a quick and easy way to do intrinsic valuations sign up here equisear.ch -- We're launching a series of tools for value investors to screen and value stocks.
Disclosure: I have no positions in any stocks mentioned, and no plans to initiate any positions within the next 72 hours.