Our Investment Philosophy
JB Capital Management
At JB Capital Management we invest with the objective of realizing superior medium to long-term returns by investing in companies that at their current prices offer attractive returns when considering their inherent risks. We therefore don't attempt to beat the market on a short-term basis or even on a long-term basis but rather to generate a satisfactory income for our investors just like any other business. And rest assured we are the Fund's biggest investor so we have your interests very close at heart.
As value investors we look globally for healthy assets selling at depressed prices and we believe we found this in the Japanese Real Estate Investment Trust (J-REITs) market. This is perhaps not so surprising as the combination of real estate and Japan is a frightening combination to many people.
First the Conclusion
Conclusion
We have in this month added United Urban Investment Corp (8960) and Japan Office Investment Corp (8983) to our long portfolio. We expect both to benefit from a combination of falling in vacancy rates primarily in Tokyo, later rising rents while benefiting from falling interest rates and tightening lending margins.  In addition to this both companies trade at significant discount to their book value even after adjusting the book value for the latest appraisal value of the properties.
We have since April 2010 had Japan Hotel and Resort (8981) in the portfolio as we expected hotel earnings to bottom out earlier as they reset their vacancies and rates overnight. We see further upside for this stock as well.
Analysis
J-REITs business model and industry
There are about 4o listed J-REITs usually numbered 32xx or 89xx on the Tokyo Stock Exchange. They normally distribute 100% of net income to avoid being subject to tax. They are able to distribute more (e.g. depreciation) but I have not come across this in practice. They are normally financed with 50% equity and 50% debt, which is lower debt financing than many of their US counterparties such as VNO and ACC.  The J-REITs have different focuses such as office, residential, hotels, logistics, retail, mixed and Tokyo / non-Tokyo focused. The current yield is about 5.5% for the industry compared with around 1% for 10Y JPY government bonds.
The different REITs have experienced very different price developments during the recent 3 years. They key drivers have in our opinion been:
Length of tenant contracts and thereby exposure to falling rents and occupancy rates

Size of J-REIT. The bigger have generally done relatively better

Sponsor. The role of the sponsor is somewhat special but it is safe to say that a strong sponsor has helped the particular J-REITs to achieve attractive financing terms which matters tremendously for profitability of the J-REITs

Those with long finance duration have been less exposed to rising financing costs and held up better
Below is a chart of one of the widely followed J-REITs index (TSEREIT:IND) from www.bloomberg.com.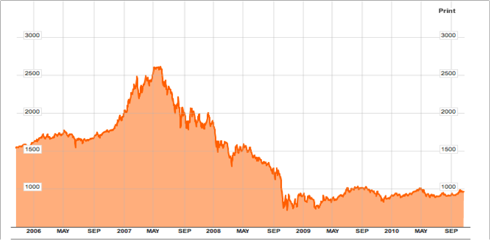 Click to enlarge


Industry outlook
The Japanese economy is like the the rest of the world in a recovery. Vacancy rates peak with a lag after the through in GDP and this appears to be happening currently in Tokyo as below chart shows. It is the Miki Shouji Office Index (MIKIMT07:IND) which shows vacancy rates from the 5 central wards of Tokyo from www.bloomberg.com.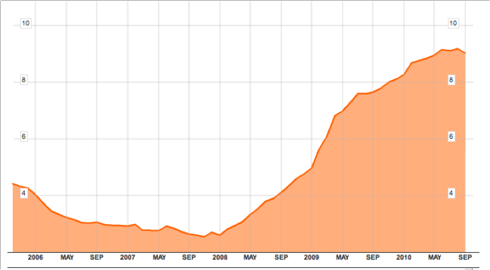 Click to enlarge
In a longer perspective things look like a rerun of early in the last decade. Same index just different timeframe: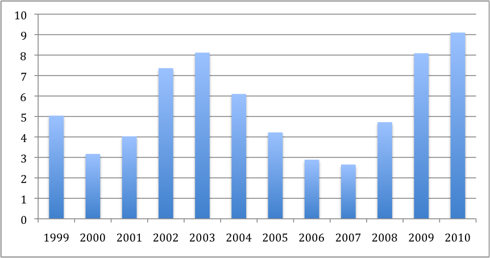 Click to enlarge
Asking rates last time bottomed a year after vacancy rates peaked so in 2004. This should put us on track for first seeing a stabilization in rents and then a rising rates as of late 2011.
Most of us know that the Japanese population size is on a declining path. This is not constructive for real estate but what most people don't know is that Tokyo actually continues to grow so this should not concern us at least for REITs that focus on Tokyo. Many are quick to write off Japan but the GDP of Tokyo is larger than that of Canada and it remains the city that is home to the largest number of Fortune 50o companies in the world.
We therefore believe that as the recovery continues we are on track to enter the positive cycle of falling vacancy rates, increasing rents, falling financing costs, rising appraisal values, lower Loan-to-Value ratios and eventually asset acquisitions. This will be probably be the time to look for something different like bonds but it is many years away.
We have researched the J-REITs market and looked for companies that are poised to benefit the most from above expected dynamics. This means companies that trade at low valuations relative to their appraisal adjusted book value, high vacancy rates and short outstanding rent agreements so that revenue can improve the quickest, high financing costs and short loan duration, Tokyo focused as we have more faith in Tokyo versus the rest of Japan and signs that net earnings are about to increase.
Japanese QE
The Japanese Central bank has recently announced that it will invest a significant amount in ETFs and J-REITs as part of is QE subject to approval from the MOF. This is a very radical move and in our opinion under reported by the media. Given the small size of the J-REIT market and the at times poor liquidity this could be a huge boost to prices. This is a bit of a joker but fortunately we don't rely on it at all.
Our picks
United Urban Investment Corp
UUI itself is a large REIT with stable income and low financing costs and as such doesn't fit above requirements. It is however merging with Nippon Commercial Investment Corp, which fits the bill exactly. The companies have comparable assets but NCI trades at an adjusted book value of 0.29, which means the combined company will be at 0.72. NCI has already refinanced many of its loans following the planned merger with its stronger partner and we expect the 2011 dividend yield to be 8.7% and 9.3% for 2012. This is a full 8% on average above the 10Y JPY government bond yield.
Japan Office Investment Corp
JOI currently has an occupancy rate of 88.2% (partly because it recently lost a large tenant) and it expects a dividend yield of 6.3% in 2010. It has very high financing costs as has been relying on loans from GE but it is currently negotiating with number of domestic banks for more attractive terms. As financing costs come down and occupancy increases the dividend will go sharply up. We don't think it is unlikely that financing costs will fall by at least 1/3 and that revenue can increase by 6%. This would bring the dividend yield to 14%. As a historic reference the company produced a net income in 2007 and 2008 that was more than 3 times as high as what is expected for 2010.
Japan Hotel and Resort Inc
Today after market close JHH reported its annual result for the year ending in August 2010. It produced an EPS/dividend per share of 12640 JPY, which is above the 11913 for 2009 and is guiding 14358 for 2011. My model says it will be 10-15% higher but I need to dive into the presentation material when it comes out tomorrow. 14358 leads to a dividend yield of 7.6% at the closing price of today.  Its adjusted price to book value is about 0.60. Even though the share price has already come a long way there should be plenty of more room on the upside.
UUI, JOI and JHH Business Risk
Financing
J-REITs have a somewhat peculiar financing structure with long lived assets and financing that rarely has a duration that is longer than 3-5 years. This puts them at the mercy of banks when the market for credit is tight.
Our take:  This indeed was an issue 1-2 years ago. Central banks have however come together to make sure that liquidity is no longer an issue. It should also be noted that at least to my knowledge no J-REITs where liquidated by bank banks but instead forced to merge with stronger J-REITs (this seems to be what happened to NCI).
Vacancy and rent rates
Much has been said about the global real estate boom and bust and I think everyone is familiar with the details.
Our take: In our opinion Japan was not part of this and real estate prices didn't go up much prior to the crisis in an international comparison. Japan had its real estate boom in the late 80' and early 90' and prices have come sharply down since then. We therefore think that this is more cyclical than anything else and that we are early and in the sweet spot of the cycle.
Japanese interest rates
J-REIT investors look for yield and compare to government bond yields. Should this comparison start favoring JGBs then J-REITs have an issue.
Our take: I think we would all like to see some inflation in Japan and we would see it as a positive development. There is, however, also plenty of room for JGB yields to rise as the current dividend yield is so much higher.
Disclosure:
Long UUI, JOI, JHH and NCI