OK, somehow the first REE-Con. became full to overflowing.  Doubtless all my own fault, blogging to beat the band.

Here's another brand new one, so we can continue the mission without constant annoying Script error messages or excessing site sloth!

I'm adding this chart showing the past month's comparative performance of the various REE stocks we spend so much time discussing.  Notice that the two Greenland plays, Hudson Minerals and Greenland Minerals, are duking it out for top spot this month.

I've added another stock which has been mentioned before over in the QC, Tasman Metals (OTC:TASXF), though it is not currently performing in the same class with the other REE stocks I am tracking.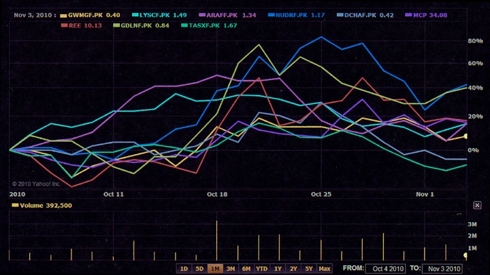 Click to enlarge
Disclosure: Long (OTC:GDLNF), (OTCPK:LYSCF), (OTCQX:HUDRF), (MCP), (OTCPK:MLLOF), (OTCPK:GWMGF), (OTCPK:DCHAF)