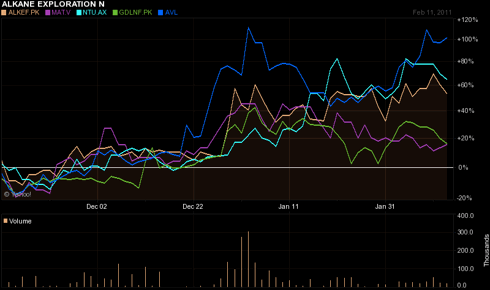 Click to enlarge
The first 2 charts show Alkane as the baseline.  This first chart demonstrates the recent fall of Greenland Minerals (
OTC:GDLNF
) from atop the heap, including 2 strong bounces from support, but only a weak and fading recovery.  Matamec has been experiencing a weakening trend, but is showing some life recently which, however, is still very much within the trading range of the down trend.  AVL demonstrates why it is a popular trade, showing power volatility.  Northern Minerals is showing strength, though recently it has been cycling down.  It also has a powerful element of volatility which was tradable, but that is showing signs of abating.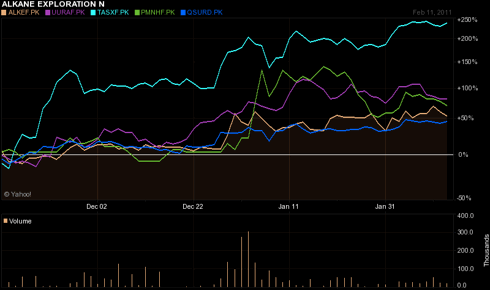 Click to enlarge
This second chart clearly shows why I consider Tasman (
OTC:TASXF
) a Buy, and one I have decided to include in my portfolio as a core REE stock.  This chart also demonstrates the recent opportunity to trade Pele Mountain, and the upward trend UCore (
OTCQX:UURAF
) has begun to carve out of the REE sector.  I consider UCore's strength to be deriving in at least part from its political advantages with their Alaska property.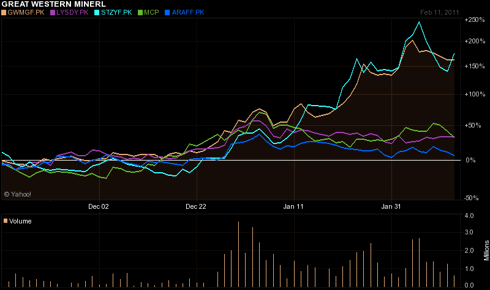 Click to enlarge
This is a variation on our usual charting of the vertically integrated projects.  I added Arafura to the mix, out of curiousity.  Stans is still showing the recent dramatic spike, plus what chihawk described as their dead cat bounce (I agree with this evaluation, btw).  I consider Stans to still constitute a trade, particularly if it retraces the volatility that broght it to the recent spike.  I do not consider Stans an investment, it is simply wildly risky.  The recent strength of Great Western dominates this chart, of course, while MCP and Lynas continue to wrestle in the lower midrange.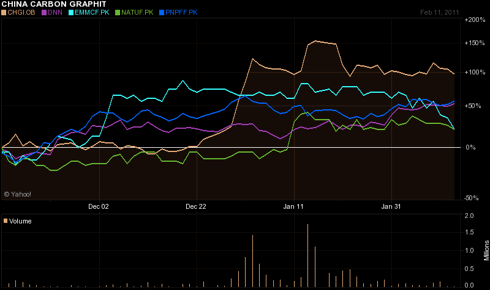 Click to enlarge
Here I am looking at some Strategic Mineral plays in my portfolio.  CHGI is a Chinese company with a strong position in the unique graphite used in nuclear reactors (Jack lifton mentioned this stock recently).  It is looking a bit range bound, but its in what I view as a cheap range, and is one I continue to watch for accumulation on any dips.  DNN sustained a recent analyst downgrade which dented its steady climb, but it appears to have shaken off that hit with minor damage.  Pinetree Capital (
OTCPK:PNPFF
) has mirrored DNN's rise, and the two are now very tightly grouped.  EMC (EMMCF.PK) is clearly showing its recent steep decline, falling out of its steady trading range which followed its spike upward last December.  I am watching this stock closely, and unless I see some signs of their arresting their decline, I may sell out of this stock very soon.  North American Tungsten (
OTCPK:NATUF
) is the other stock which has now caught up with EMC, but it is continuing to sell in a strong range after climbing to its current strata.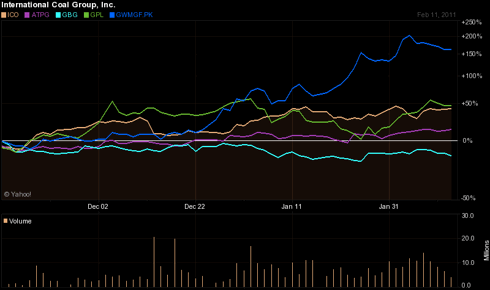 Click to enlarge
Here are 5 stocks from my portfolio, each representing a different sector.  As if we were not already aware of this fact, the REE sector is clearly leading the way, with Great Panther (NYSE:
GLP
) and International Coal (NYSE:
ICO
) holding down the midrange.  ATP oil (
ATPG
) and GBG Gold (NYSEMKT:
GBG
) are trailing the field.
The Author is long all the stocks mentioned in this article, and is an active trader in the REE/Strategic Minerals sector.
Links to prior Concentrators:
http://seekingalpha.com/instablog/480016-tripleblack/136931-ree-strategic-minerals-concentrator-feb-8-2011
http://seekingalpha.com/instablog/480016-tripleblack/136068-ree-strategic-minerals-concentrator-feb-5-2011
http://seekingalpha.com/instablog/480016-tripleblack/135439-ree-strategic-minerals-concentrator-february-3-2011
http://seekingalpha.com/instablog/480016-tripleblack/135074-ree-strategic-minerals-concentrator-february-2-2011
http://seekingalpha.com/instablog/480016-tripleblack/134379-ree-strategic-minerals-concentrator-january-31-2011
http://seekingalpha.com/instablog/480016-tripleblack/133649-ree-strategic-minerals-concentrator-january-28-2011
http://seekingalpha.com/instablog/480016-tripleblack/132617-ree-strategic-minerals-concentrator-january-25-2011
http://seekingalpha.com/instablog/480016-tripleblack/130772-ree-strategic-minerals-concentrator-january-20-2011
http://seekingalpha.com/instablog/480016-tripleblack/129951-ree-strategic-minerals-concentrator-for-january-18-2011
http://seekingalpha.com/instablog/480016-tripleblack/127523-ree-strategic-minerals-concentrator-january-11-2011
http://seekingalpha.com/instablog/480016-tripleblack/125641-ree-strategic-minerals-concentrator-january-4-2011
http://seekingalpha.com/instablog/480016-tripleblack/124151-ree-strategic-metals-concentrator-dec-29-2010
http://seekingalpha.com/instablog/480016-tripleblack/123052-ree-strategic-metals-concentrator-dec-23-2011
http://seekingalpha.com/instablog/480016-tripleblack/120043-ree-strategic-materials-concentrator-dec-12-2011
http://seekingalpha.com/instablog/480016-tripleblack/117052-ree-strategic-metals-concentrator-dec-1-2010
http://seekingalpha.com/instablog/480016-tripleblack/114903-ree-concentrator-november-22-2010
http://seekingalpha.com/instablog/480016-tripleblack/109355-rare-earth-elements-concentrator-nov-9-2010
http://seekingalpha.com/instablog/480016-tripleblack/107219-rare-earth-elements-concentrator-nov-2-thru
http://seekingalpha.com/instablog/480016-tripleblack/104375-rare-earth-elements-rees-concentrator-oct-25-nov-2
http://seekingalpha.com/instablog/480016-tripleblack/137621-ree-strategic-minerals-concentrator-feb-10-2011