Duoyuan
Printing (NYSE:
DYP
), a leading Chinese offset printing machinery manufacturer floated 6.5M shares (5.5M primary, 1.0 secondary) in its IPO offering
last
Friday
. Priced at $8.50, the low end of the suggested pricing range, the stock tanked 8.6% to only close at $7.77.
Guo Yuanhua, the founder of Duoyuan Printing, also founded Duoyuan Global Water (DGW), an IPO super star who went up 151% since its debut on June 24, 2009. Although both in the equipment manufacturing business, Duoyuan Printing did not have the same luck as Duoyuan Global Water on its debut, partly due to its less favored segment. Water treatment is one of today's hot investment themes, but not as many people are as interested in offset-printing equipment business.
However, my research shows that Duoyuan Printing has a solid business, fast growth potential and respectable profit margin. And it is not valued correctly by the market. 
Attractive Business segment
Duoyuan Printing makes printing equipments. Mainly competing with international manufacturers, it sells quality products priced lower than its international peers. In the past sevear years, Chinese offset printing equipments manufacturers, including Duoyuan Printing, have continued to gain market shares.
Duoyuan sells its products through an efficient network of distributors to over 90,000 licensed printing companies in China. Its multi-color big format printers are getting higher profit margin and higher share in its product mix so that its profit margin has been steadily improving.  
The business requires both intensive capital and specialized technical knowledge, which provides major barriers to entry, another attractive characteristic of the segment besides growth potential.
Fast revenue growth expected to continue
From 2005 to 2009, Duoyuan Printing has experienced significant growth in both revenue and net income. The following charts demonstrate its history of fast growth in both revenue and earnings. Even in the very difficult 2009 fiscal year, Duoyuan printing achieved a respectable 19% yoy growth in revenue, and 22% yoy growth in net income over fiscal 2008. In the
September
2009 quarter, its fiscal Q1 2010, the revenue grew 27% yoy, driven by the Chinese economic recovery. Looking forward, Duoyuan Printing should be able to grow 20% annually for the next several years.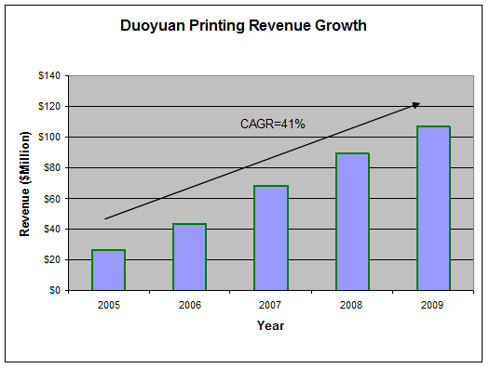 Click to enlarge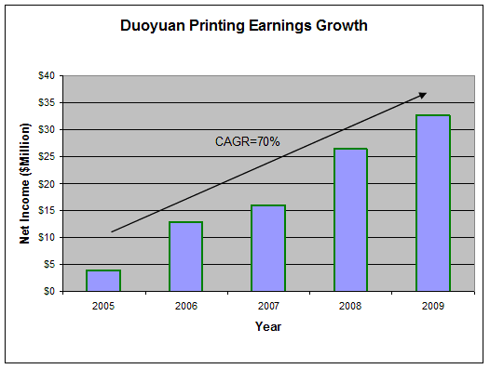 Click to enlarge
Respectable margin with room to expand
Duoyuan Printing enjoys a respectable margin that has room to further expand as revenue increases.
The following chart shows the gross margin and operating margin in the past five years. Both gross and operating margin have been steady and increasing, even in the very challenging 2009.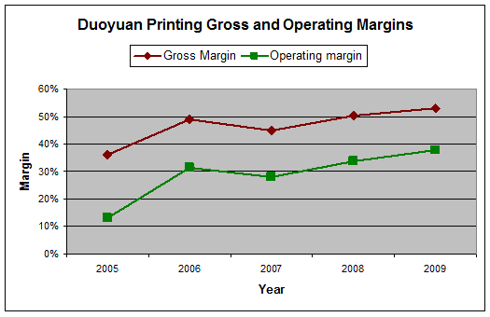 Click to enlarge
Valuation
I valued Duoyuan Printing based with the following assumptions:
- Financial year 2010 (starting July 2009) revenue will grow at 20%. This should be easily achievable given that the company grew 19% in FY 2009, the most difficult period, and already achieved 27% top line growth in the first quarter FY 2010. 
-
Net margin at 28%, which I believe is conservative, based on the company's most recent net margin of 30% and its margin expansion potential.
- EPS will grow at a rate of 20% for the next 3-5 years.


The 2010 earnings is estimated to be around $36M. Given the growth potential, it's fair to value the stock at 15x its 2010 earnings. This gives the stock a fair value of $15.3, almost twice its Friday close price.

 

The following table compares some metrics between Duoyuan Printing and its sister firm Duoyuan Global Water. It appears that Duoyuan Printing has a very similar growth profile to Duoyuan Global Water, both managed in a similar way and controlled by the same founder. However, Duoyuan Global Water (DGW) is trading at 27.7x 2010 earnings, Duoyuan Printing is on sale at a mere 7.6x 2010 earnings.

Click to enlarge
Having witnessed its sibling Duoyuan Global Water (DGW) more than doubled 4 month post IPO, I believe it won't be long before Duoyuan Printing narrows the gap.
Disclosure: Long DYP, DGW