·

        
Real GDP Y/Y expanded at  3.2% Q/Q Ann. in Q1 2010 after surging at 5.6% Q/Q Ann. in Q4 2009. This is off our expectations but we believe Q2 2010 might still be promising. Why? Considering CB LEI Y/Y has an historical 3 months lead on Real GDP Y/Y, we may assume Real GDP Y/Y might deliver decent results for one more quarter before reversing like CB LEI Y/Y
(2)
.
·

        
At this point, it is safe to assume S&P 500 TR Y/Y, ECRI LEI Y/Y and Consumer D. Y/Y were all ahead of themselves calling 5.0% Real GDP Y/Y figures
(1) (4) (5)
. The only indicator with fair expectations is ISM All (man. + non-man.) calling for a 2.5% Real GDP Y/Y growth this year
(3)
.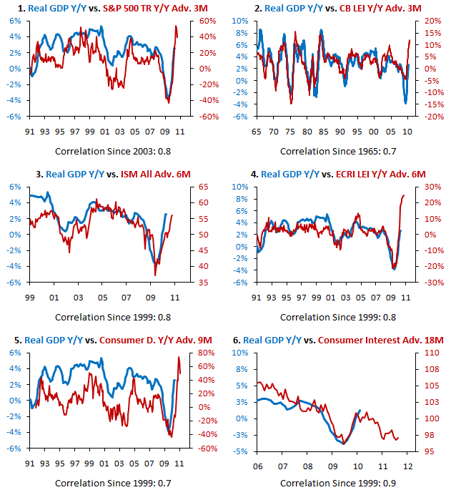 PS: This article is part of our research U.S. Economics Monthly. To view the whole research, visit our website.
Disclosure:
none