I have been waiting for gold to start a good bear trend for a long time, and now it is an excellent time for it to reverse.
I want you to look at this yearly gold candles.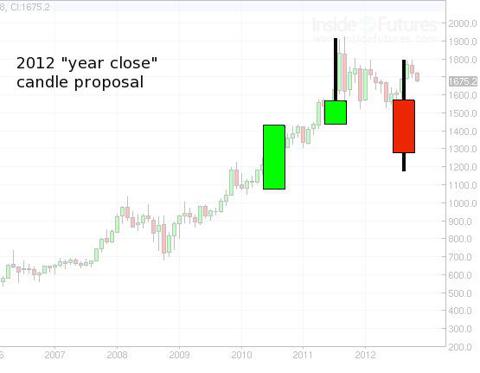 2010 was up in full candle form. 2011 is a shutting start candle. And 2012 looks like failed continuation move upwards. Given the setup on the USD index we have good chances that this year the selloff in gold accelerates to close the year down, like pictured. Important yearly level is 1450, it is the opening of 2011 and close of 2010, so, closing bellow it will be a nasty yearly top, with 2013 being a full candle down.
Now let's see a possible channeling on the monthly chart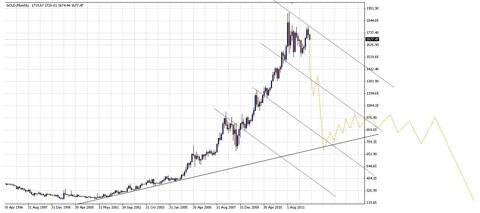 This is the best channeling I can find at this time. The symmetry is in a triple channel form. A double channel hit is a strong pattern which usually drives the price to the other channel boundary, but the problem is we don't have very clear boundaries here, except for the first and the 4th lines (or maybe the 2nd too) , so this makes me think there is no good support levels until 650 or 700. I am targeting, however, a retracement from 1180 to 1340 because 1180 seems to be the strongest resistance/support level traded above 1040, it is the only level that was hit twice in a 8 month timeframe. It is also in the middle of the 3rd channel line, which could happen to be weak line. I think we can expect strong support to come at 700/650 levels, and this my 'positive' outlook for gold.
The worst outlook is to hit 430 level, repeating the same thing happened to oil. This is how it would look like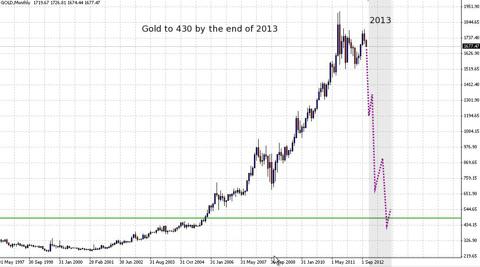 If this year we close below 1450, 2013 should be a full (yearly) candle down, and the only support gold hasn't tested well through its trading history is 500. So , we can expect to temporarily break 500, to reach 430, and then close the year at 520 or slightly above 500.
Monthly candlesticks are also bearish, we have dark cloud cover in Octo ber at the top of the range passing at 1780.