I want you to take a look at this chart of Oil during the Great Depression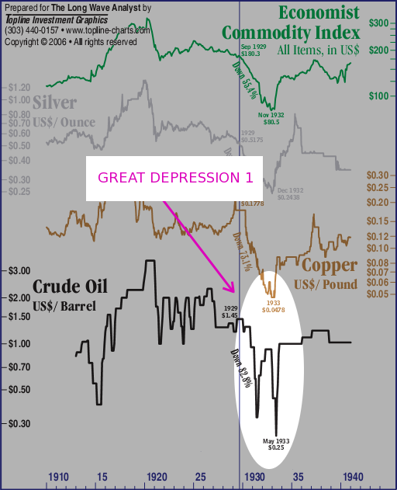 This is how it trades during such times, impulsive, one big retracement.            
If current depression (Depression 2) has started, oil should behave the same way.
This call is in sync with my dollar rise move.                                        

If we try to find the target based on the Depression 1, the formula is simple:
Great Depression 1's high: 3.07
Great Depression 1's low:  0.27
The percentage of the drop: 91%
Great Depression 2's high: 147.50
Great Depression 2's low: 147.50 * 9% = $13.27

Channels 

I have spent lots of time trying to fit oil's monthly chart into a symmetric channel but I couldn't until I found this one. It all makes sense now, check this out: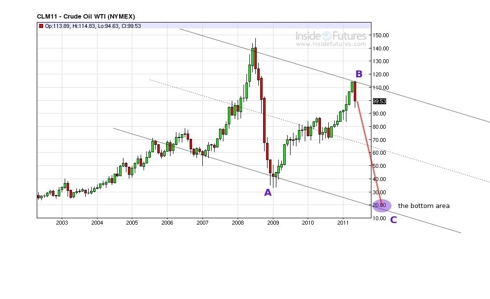 I draw it on closing prices this time, so the lower line is now very well fitted. The upper line matches the closing prices too, almost perfectly. The lows and highs outside of the channel are of the same distance on both sides. This makes this month's high at 115 a perfect top. Now that we have the channel, what is going to be the bottom?
My target is between 15 and 25,  most likely 18.50. I know Prechter called for 5   buck oil, but I am not going to wait for those extremes to happen. As we see on the Depression 1 chart, oil is volatile  and once the  bottom has been put, we aren't going to see low prices again, so folks, the last discount season on oil is coming and you don't want to miss it.