This is an update on my USD long term projection.

It has to be redone because the dollar broke 74.50 level last week. This break doesn't yet mean a new wave to 65 has started, on the countrary I am looking for this to be a retest of the early May's low, as a corrective move. Euro closed at 1.4635 last week, there is no channel alignment or pivot level to indicate the move has ended, it still can move to 1.4720, but it also could go down from here, because back in May I had acycle date that was pointing to a low on the euro this friday, if the date is right it could be a top instead of the bottom.

This time we will check the USD long term , but on the euro's chart: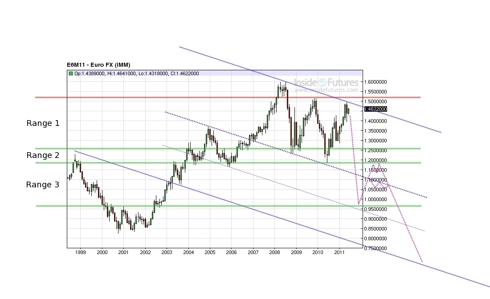 You can see a large channel, that is subdivided in 2 and the ranges I previously identified.

The bearish points I see here are:
1. Lower lows, lower highs, starting from 2008.
2. Right now we are in the upper area of the range.
3. The double hit on the channel line has made in May, this is a sell signal.
4. May closed as a sort of hanging man (hammer) candle, if confirmed it is a sell signal.
5. There could be a head & shoulders pattern here. If I rotate the chart 18 degrees,
the head and sholders is clearly seen. The inclination I believe is due to
extreme bearishness. The ranges between 1.52 and 1.20 could be seen as trading the head of the pattern and the neckline is the median line (thin) of the lower channel.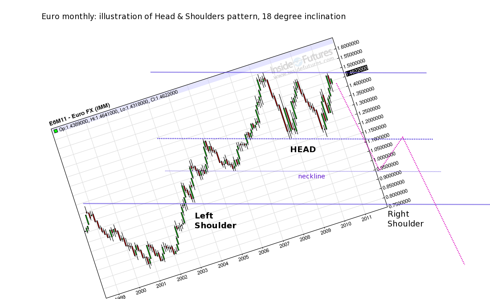 So, now the (updated) prediction:

The euro should drop quickly into 0.98-0.95 area. How quickly? From 6 to 9 month.
Can a drop like that happen so quick? Yes, it is normal. If you see the 2008 selloff, it was done in 3 months. The 2010 selloff was in 6 months. The 2008 sellof was after a monthly doji (if you sum the 4 candles at the top), right now we have a hammer type candle, if confirmed, it will be a strong sell signal. On the rotated head & shoulders chart we can see that a 9 month move to the neckline is normal, due to its inclination it is equivalent to the 3 years move in 2006-2008.
I previously was projecting a move that would stop for supports and trade ranges, but since 74.50 was broken last week, we should have a non-stop move (very little of retracements) until we drop to at least 1.15, where it could do a retracement o 1.18. The support at 0.95-0.98 should be a strong one. It corresponds to USD index of 96 , we might have a retracement from there to 92.50 or even 85, I drew both variations, one goes to 1.10 the other to 1.20, I think the retracement to 1.10 will take place.